RFA Fort Rosalie finishes her Libya mission
The Royal Fleet Auxiliary (RFA) vessel Fort Rosalie has completed her tasking under Operation ELLAMY, the UK's contribution to international efforts to protect Libyan civilians from attack by the former Gaddafi regime.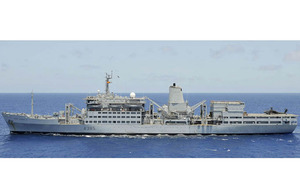 For the past four months, RFA Fort Rosalie has been supporting helicopter carrier HMS Ocean and other Royal Navy warships by providing stores and ammunition, and has also undertaken a vital shuttle service - known as a 'Del Boy' run - between the Task Group and NATO bases in the Mediterranean.
She finished her tasking off Libya last week and is now on her way back to the UK.
Before she returns home, RFA Fort Rosalie will make a brief stop in Civitavecchia, Rome, which will be an opportunity to thank Italy for the support they have given to UK forces during Libya operations and for their own substantial contribution to the international campaign.
RFA Fort Rosalie's Commanding Officer, Captain Phillip T Hanton, said:
RFA Fort Rosalie has switched from amphibious exercises in the Mediterranean to supporting maritime strike operations off Libya and will shortly deploy to the North Atlantic for anti-narcotics duties.
This high tempo of front line operations is a vivid demonstration of our integral role in supporting the Royal Navy and our ability to make a direct contribution to UK defence and security.
Libya is the latest in a long line of front line roles for the 23,384-tonne Auxiliary Fleet Support Vessel, which is designed to supply Royal Navy warships with food, stores and ammunition whilst underway.
Twenty-nine years ago, Fort Rosalie provided direct support to the amphibious operations in the Falklands. She later spent much of the 1990s alongside the Croatian port of Split supporting peacekeeping operations in the Balkans.
Successive refits have kept the ship up-to-date, and the demand for her versatile capabilities has never diminished.
RFA Fort Rosalie deployed from the UK at the beginning of May 2011 laden with 6,000 cubic metres of stores as part of the Royal Navy's Response Force Task Group (RFTG) - the UK's military quick reaction force - for a series of amphibious exercises in the Mediterranean.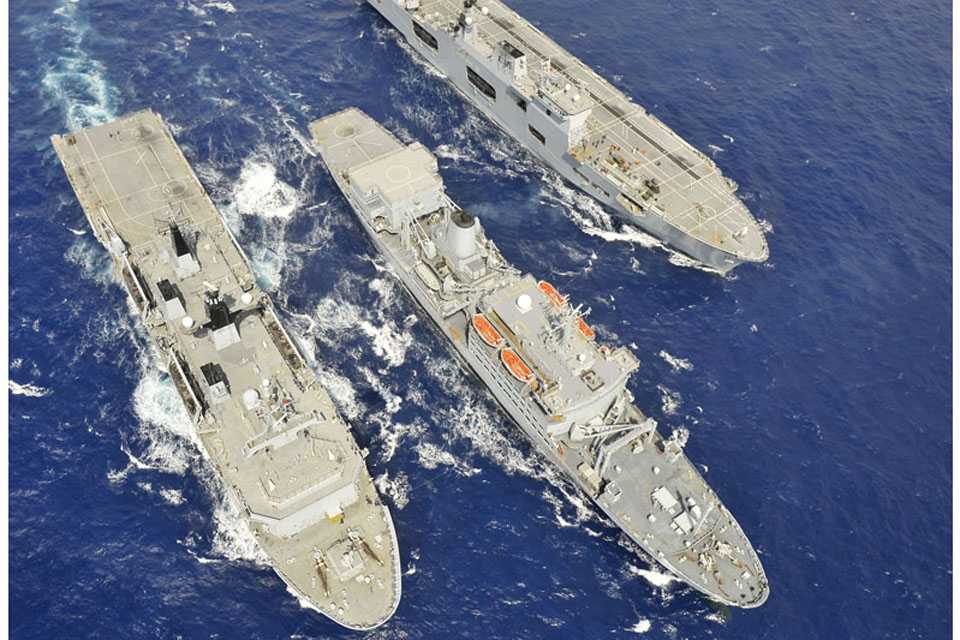 However, the RFTG was redeployed to the North African coast when it was decided to increase pressure on the Gaddafi regime through the use of Apache attack helicopters belonging to the Army Air Corps but based on HMS Ocean.
A key task for RFA Fort Rosalie was to deliver a fifth Apache to HMS Ocean. In a first for the RFA, the attack helicopter was flown onto Fort Rosalie in Souda Bay, Crete.
An equally important role has been supplying ammunition to HM Ships Liverpool, Sutherland and Iron Duke to ensure their ability to deliver naval gunfire support when operating in range of the Libyan coast.
General stores to support the Task Group are brought from the UK by road and air via a forward logistic site located in southern Italy. These were then transferred to Fort Rosalie for delivery to the ships in the Task Group.
The transfer of over 200 personnel in and out of theatre, together with regular deliveries of mail, has made a big difference to morale at sea.
Despite a high tempo of operations, RFA Fort Rosalie was able to take part in commemorations of the 69th anniversary of Op PEDESTAL, the Second World War convoy to relieve Malta.
Captain Hanton laid a wreath on behalf of the Royal Fleet Auxiliary Service at two official ceremonies to mark this historic event.
Since the start of the year a total of 16 Royal Navy warships, submarines and Royal Fleet Auxiliary vessels have contributed to humanitarian, combat and embargo operations off Libya. Two ships - the destroyer HMS Liverpool and the minehunter HMS Bangor - remain deployed.
Commodore Bill Walworth, Commodore Royal Fleet Auxiliary, said:
Four Royal Fleet Auxiliaries have supported UK and coalition activities off the coast of Libya. In doing so they underline our ability to sustain the Royal Navy on station for as long as operations require.
Published 3 October 2011