RFA Black Rover returns from 18-month deployment
RFA Black Rover supported maritime security operations and provided a military presence in the South Atlantic and overseas UK territories including…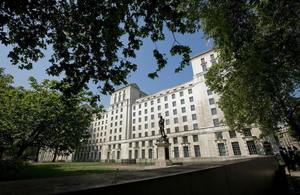 RFA Black Rover supported maritime security operations and provided a military presence in the South Atlantic and overseas UK territories including the Falkland Islands, South Georgia, St Helena and Tristan da Cunha.
The ship's Commanding Officer, Captain Paul Whyte, said:
Since sailing from the UK last summer, the ship has been busy conducting maritime security operations across the wide expanse of the South Atlantic visiting British dependent territories as well as providing direct support to deployed warships and British forces in the Falklands.

The ever-changing operational programme and geography in the region has provided a varied but rewarding challenge for the ship's company.

Highlights included remembrance services at the war graves of RFA Darkdale, in St Helena, and RFA Sir Galahad, to the south east of the Falklands, as well as experiencing the natural wilderness and beauty of South Georgia that included trips to the historic whaling station at Grytviken, museum and Shackleton's grave.
The ship's company have demonstrated superb resilience against the harsh weather conditions and challenging seas but always mindful that our range throughout the deployment would eventually bring sunshine and fair weather.

Throughout the deployment, the ship has continued to demonstrate the versatility of the Rover Class tanker and the valued part the RFA play in support of British interests around the world.
RFA Black Rover conducted numerous patrols and settlement visits around the Falkland Islands.
After a maintenance period in May this year, she then proceeded on patrol under national tasking into the North Atlantic, culminating in a port visit to Las Palmas.
RFA Black Rover returned to the Falklands in July 2011 to resume her duties, including a visit to South Georgia, prior to her return to the UK, departing the Falklands in August 2011.
A handover of the South Atlantic tanker duties was conducted with RFA Gold Rover off Georgetown, Ascension Island, on the return journey home.
Having arrived in Portland the ship will undergo maintenance before taking up duties as directed by the MOD.
Published 29 September 2011