News story
Review of women in ground close combat roles
Further steps have been made to progress the review of women in ground close combat roles.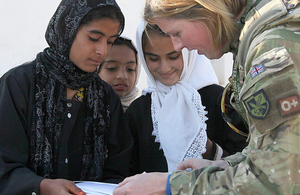 In May 2014, the Defence Secretary announced the launch of a review of the exclusion of women from ground close combat roles. Today, 3 July, it has been announced that the review now has its terms of reference.
The review will look at whether females can serve in ground close combat roles in the Royal Marines General Service, the infantry, the Royal Armoured Corps, the Household Cavalry and the RAF Regiment. It also aims to identify the benefits and risks of changing this policy and to make recommendations.
In its terms of reference, the Defence Secretary has explained that the review will undertake an assessment of women's roles in recent operations as well as conducting an internal survey to determine the attitudes in the armed forces towards mixed-gender teams in ground close combat environments.
A review of scientific literature on gender-related physiological issues relating to the performance of military tasks will also be carried out.
The most recent review was held in 2010. Under EU law the exclusion has to be reviewed at least every 8 years, but with the end of the armed forces combat role in Afghanistan in sight, the Defence Secretary has decided the review should be brought forward.
You can read the terms of reference here.
Published 3 July 2014