Press release
Review of the youth justice system
An interim report of emerging findings from the review of the youth justice system.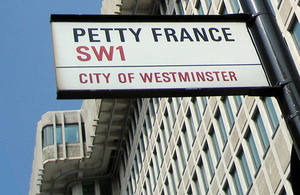 Plans to transform youth custody in England and Wales have been set out today (9 February 2016) by child behavioural expert and former head teacher Charlie Taylor.
As part of his review of youth justice, Charlie Taylor has recommended that young offenders should serve their sentences in secure schools rather than youth prisons.
Interim findings suggest the youth justice system would be more effective and better able to rehabilitate young people if education was at its heart. Smaller, local, secure schools would draw on educational and behavioural expertise to rehabilitate children and give them the skills they need to thrive on release.
The report has found:
since 2006/07 the number of children in custody has declined by 64% to its lowest recorded level
of those children who remain in custody, too many – almost two thirds – reoffend within a year of release
around 40% of young people in under-18 Young Offender Institutions (YOIs) have not been to school since they were aged 14, and nearly nine out of 10 have been excluded from school at some point
children in YOIs are only receiving 17 hours of education every week against an expectation of 30 hours
In response to these findings, interim proposals include:
re-designing the youth estate so that it can cater for a smaller, but more challenging, group of children in custody
placing education at the centre of youth custody, by drawing on the culture of aspiration and discipline which is evident in the best alternative provision schools
replacing youth prisons with smaller secure schools which help children master the basics in English and maths as well as providing high quality vocational education in a more therapeutic environment
giving local areas greater say in the way children are managed by devolving responsibility, control and money from Whitehall
Charlie Taylor will now continue his engagement with experts in this area, exploring these ideas further before producing a final report in July.
Justice Secretary Michael Gove said:
I am in no doubt that our system of youth justice needs reform. Although youth offending is down, recidivism rates are high, and the care and supervision of young offenders in custody is not good enough. That is why I asked Charlie Taylor to conduct this review. I welcome these initial findings and look forward to receiving the final report in the summer.
Charlie Taylor said:
Since beginning this review, I have been hugely impressed by the expertise and dedication of so many people who work with some of the most difficult and troubled children in the country. I am, however, convinced the youth custodial estate must be reformed to give children the support and education they need to become successful adults.

Education is important for all children, but for those involved in offending it is vital. We need a resolute focus on giving children in trouble with the law the skills, qualifications and aptitudes to lead successful, law-abiding lives.
The remainder of the youth review will examine the way young offenders are dealt with in court and the sentences available, how to prevent offending in the first place and how to reintegrate children back into the community following custody.
Notes to Editors
In September 2015 Charlie Taylor was commissioned to conduct a review of the youth justice system.
The review's terms of referencecan be found on GOV.UK. A final report is due to be published in July 2016.
Charlie Taylor is the former Chief Executive of the National College of Teaching and Leadership, the former head teacher of an outstanding school for children with complex behavioural, emotional and social difficulties, and an expert in managing young people's behaviour.
The under-18 youth custody population has more than halved in the past 5 years, from 2,418 in 2009/10 to 1,048 in 2014/15, and is currently under 1,000. Currently 67% of children who are released from custody reoffend within a year.
Published 9 February 2016