Review of public bodies by the Cabinet Office
As part of the Government's commitment to increase the transparency and accountability of all public services, the Minister for the Cabinet Office, Francis Maude, today summarised plans to substantially reform a large number of its Public Bodies.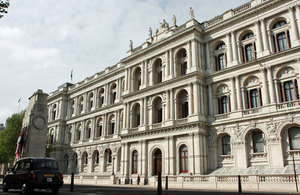 The Government intends to introduce a Public Bodies Bill that will enable many of these plans to be implemented.
The reform process covered all of HM Government's Non-Departmental Public Bodies (NDPBs), as well as other bodies, such as some non-ministerial departments and some national public corporations.
What does this mean for the Foreign Office?
The BBC World Service, British Council, Westminster Foundation for Democracy and Marshall Aid Commemoration Commission and the Foreign Compensation Commission will retain their current status as Arm's Length Bodies (ALBs).
The Consular Stakeholder Panel has never operated as an ALB, and will be removed from the list of the Department's ALBs. The Caribbean Board will be abolished, as the Department has identified more effective ways to engage with the Caribbean communities.
The Great Britain China Centre and the UK-India Round Table are currently being reviewed by the relevant Directorates, and the reviewers will report in due course. The future of the Foreign Compensation Commission is also being reviewed.
The future status of the Diplomatic Service Appeals Board is under discussion, but no conclusions have been reached yet. The future of the Government Hospitality Advisory Committee on the Purchase of Wine will be decided after the reporting of a thorough zero based review of the cellar which is currently taking place. It is clear the Committee will no longer be an ALB.
Published 14 October 2010