Press release
Review of automatic enrolment to build on success
The government has announced a review of automatic enrolment to encourage more people to save into a workplace pension.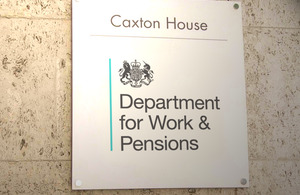 Encouraging as many people as possible to save into a workplace pension and secure their financial future is at the heart of a new review into automatic enrolment announced today (12 December 2016).
The review will consider the success of automatic enrolment to date, and explore ways that the ground-breaking policy can be further developed.
Through automatic enrolment almost 7 million people have been enrolled into a pension scheme by nearly 300,000 employers. This is expected to lead to around 10 million people newly saving or saving more by 2018, generating around £17 billion a year more in workplace pension saving by 2019/20. But the government is keen that as many people as possible can benefit from their own long-term saving, topped up with employer and government contributions, to give them greater financial security in retirement.
The review will gather evidence on groups such as people with multiple jobs who do not qualify for automatic enrolment in any single job. It will also consider how the growing numbers of self-employed people can be helped to save for their retirement.
Secretary of State for Work and Pensions, Damian Green said:
Pensioner poverty has more than halved since the late 1980s, which is a record to be proud of. We need to secure this legacy for future generations.

After years of people not saving enough, automatic enrolment is helping millions of people, many of whom are low earners, benefit from a workplace pension. This will continue to boost retirement pots and help safeguard people's standard of living in later life.

This government is committed to building a country which works for everyone, not just the privileged few, and now is the right time to consider who else – beyond the 10 million already set to benefit – could gain from automatic enrolment.
Saving into a workplace pension allows workers to benefit from both contributions from the government and their employer. New research out today highlights that nearly £82 billion was saved into pensions last year, of which almost 60% was contributed by employers.
This level of saving has been bolstered by the contributions from employers who have already enrolled their staff. The estimated average amount of contributions for workers of medium or large firms has increased to 8% of employee earnings, 4 times higher than the current minimum contribution rate.
Also announced today is the decision to freeze the automatic enrolment trigger at £10,000 for the 2017/18 tax year. Any eligible workers who earn this amount or more will continue to be automatically enrolled.
More information
In the late 1980s, 40% of UK pensioners were living in poverty. This figure has now fallen to 14% (2014/15).
Eligible workers earning between £10,000 and £20,000 now have a participation rate of 65%, an increase of 30 percentage points from 2012.
The DWP review will be supported by an external group chaired by and made up of experts from within the pensions industry, and people who will also represent member and employer interests. The government will announce membership and the terms of reference for this group in early 2017.
The 2017 review will also examine the automatic enrolment thresholds for triggering saving and the age criteria for when people will start to be automatically enrolled.
The threshold review has confirmed that band earnings will continue to be aligned with National Insurance contribution rates – £5,876 for the lower limit of the qualifying earnings band, £45,000 for the upper limit.
Contact Press Office
Media enquiries for this press release – 020 3267 5124
Press Office
Caxton House
Tothill Street
London
SW1H 9NA
London Press Office (national media and London area enquiries only – not questions about personal claims) 020 3267 5144
Out-of-hours (journalists only) 07623 928 975
England and Wales (local media enquiries) 029 20 586 then 097 or 098 or 099
Scotland (local media enquiries) 0131 310 1122
Follow DWP on:
Published 12 December 2016