Press release
Resurfacing scheme to start at junction 60 Bradbury Interchange A1 (M)
Drivers are advised that essential resurfacing work will begin on the A1(M) at junction 60 on Saturday 4 July.
This news article was withdrawn on
This press release is no longer current.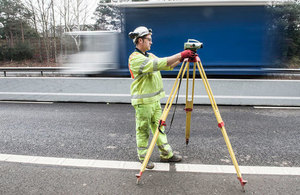 Highways England project manager, Chris Corcoran, said:
This resurfacing work will improve the condition of the road surface for drivers using this major route through the region and we thank drivers for their patience.
The initial work will be to install the necessary traffic management along the A1(M). On Saturday 4 July and Sunday 5 July the A1(M) will be reduced to one lane in each direction between 8pm and 6 am. This will be followed by a full northbound closure between junction 59 and junction 60 between 8pm on Tuesday 7 July to 6am Wednesday 8 July. A full southbound closure between junction 61 and junction 60 will then take place overnight on 8 and 9 July.
The work is planned to be completed on the weekend of 10 to 12 July. The northbound carriageway will be closed from 8pm on the Friday 10 July to 6am on Monday 13 July. During this work there will be one southbound lane open to traffic and one northbound lane open to traffic, both within the southbound carriageway.
It is hoped to complete the resurfacing work over this first weekend, but if delays are experienced, i.e. due to bad weather, then the A1 will be returned to two lanes in each direction Monday to Friday and then the northbound closure re-installed the following weekend (17 to 19 July).
Following the completion of the work there will be separate closures of the southbound and northbound carriageway on consecutive nights to remove the traffic management. During the work a speed limit of 50mph will be in place to allow motorists to run on the temporary road surface. A clearly signed diversion route will be in place via junction 59 (Aycliffe) and junction 61 (Bowburn interchange).
General enquiries
Members of the public should contact the Highways England customer contact centre on 0300 123 5000.
Media enquiries
Journalists should contact the Highways England press office on 0844 693 1448 and use the menu to speak to the most appropriate press officer.
Published 2 July 2015