Press release
Resurfacing repairs on A303 near Amesbury
Highways England is taking swift action to carry out important remedial works on the A303 near Amesbury.
This news article was withdrawn on
This press release is no longer current.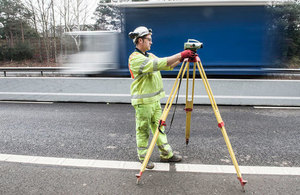 Following investigations, resurfacing work carried out on the A303 between Countess Roundabout and Cholderton last winter, will need replacing because the stone used in the original scheme was contaminated with low quality materials. .
Highways England project manager, Paul Vosper said:
We sincerely apologise to our customers for the disruption these additional works will cause, but it's vitally important the surfacing on this busy main route is replaced quickly to ensure safe and reliable journeys for many years to come.

Leaving the surface in place for any longer than necessary could possibly lead to further unplanned problems in the future and further disruption. That is why we have acted quickly to rectify the situation and well ahead of the school summer holidays when traffic flows increase significantly.

We have consulted with Wiltshire Council to ensure the work is completed with the minimum of disruption.

Our suppliers recognise the issues and are working at their own expense to ensure the road is repaired and will provide trouble free use for many years to come.
The scheme, between Countess Roundabout and Cholderton, will affect the east and westbound carriageway of the A303 for a total of five miles and will be carried out overnight between 8.00pm and 6.00am.
Work starts on Tuesday, 30 June and continues until Thursday, 18 July. During the first week, work will last from Tuesday to Friday, with the remaining two weeks taking place Monday to Thursday.
To ensure the safety of both the travelling public and our workforce, it will be necessary to fully close sections of the A303 to through traffic, fully signed diversion routes will be in place.
Westbound traffic will be diverted via the A338, Portway and the A345. The eastbound route will take traffic via the A345 Salisbury Road, the A3028, Marlborough Road, Tidworth Road, Bulford Road and the A338 Salisbury Road.
In addition, diversion routes for local traffic travelling west will be via Solstice Park Avenue, London Road and the A345. Eastbound local traffic will be diverted via the A345, London Road and Porton Road. Through traffic will be diverted via Salisbury Road, the A3028 and the A345 Countess Road.
Additional diversion routes for all through traffic will be in place between Andover and Wylye via the A343, A30 and A36 and also via the A338.
General enquiries
Members of the public should contact the Highways England customer contact centre on 0300 123 5000.
Media enquiries
Journalists should contact the Highways England press office on 0844 693 1448 and use the menu to speak to the most appropriate press officer.
Published 23 June 2015