Restorative justice register launched
More offenders will face the consequences of their actions with the launch of the first-ever register of restorative justice practitioners.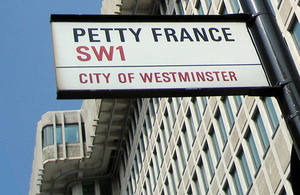 Funded by the Ministry of Justice and implemented by the Restorative Justice Council (RJC), the register lists all qualified practitioners of restorative justice - a process where offenders meet their victims and hear about the pain they have caused.
Justice Minister Crispin Blunt said: 'Restorative Justice demands criminals take an active role in acknowledging the harm they have caused, as well as making amends.
'The register we are launching today will encourage the increased use of restorative justice by making it quicker and easier to find a local practitioner, as well as acting as the first-ever benchmark of quality and professionalism that ensures victims are safeguarded.'
Restorative justice, already used in England and Wales, empowers victims and communities to overcome the negative impact of crime - with 85 per cent of victims who have taken part reporting a positive experience.
Reformed offender Scott said: 'When I heard about the pain I caused I couldn't understand why I did it and I felt sick hearing that.'
'I can't do burglaries now, because I keep hearing Michelle's words in my head and it stops me doing it.'
Published 13 September 2011