Press release
Respect road workers: CCTV footage shows reckless driving at roadworks
Shocking footage released today shows the risk faced by people working to improve or maintain England's motorways and major A roads.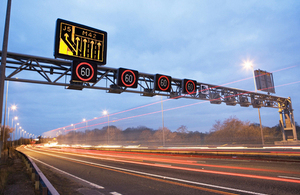 The video clips feature two examples of workers narrowly escaping serious injury when inattentive drivers ignore signs on the road and do not slow down. The footage has been produced as new figures show that last year saw the highest number of serious injuries among incident response teams since 2007, with 10 road workers suffering major injuries.
Roads minister John Hayes said:
The safety of those who work around the clock to carry out vital improvements and keep drivers moving after incidents is absolutely paramount. It is not worth putting road workers' lives at risk, let alone the tragic impact on their lives and those of their families, simply to shave a few seconds off your journey.
The footage released today includes:
A lorry almost crashing into a Highways Agency Traffic Officer vehicle which was attending a breakdown on the M6 near Birmingham. This was despite a red 'X' being displayed on the overhead gantry to show the lane was closed.
A lorry continuing in a lane where a red 'X' has been displayedon an overhead gantry and then crashing through the traffic cones protecting a maintenance crew.
The Highways Agency's advice for driving safely at roadworks is simple:
Keep within the speed limit – it is there for your safety
Get into the correct lane in good time – don't keep switching
Concentrate on the road ahead, not the roadworks
Be alert for works traffic leaving or entering roadworks
Keep a safe distance – there could be queues in front
Observe all signs – they are there to help you
Between 2009 and 2013, eight road workers died and 317 were injured while working on or near motorways and major A roads in England. In 2013 the numbers reached their lowest level with no fatalities and 30 injuries. Of these 30 injuries, 18 were serious involving 10 road workers from incident response teams and 8 from construction and maintenance teams.
The importance of safety on England's motorways and major A roads will be centre stage when The Motorway: Life in the Fast Lane is broadcast on BBC2 this month. This four part documentary series, premiering on Tuesday 9 September at 9pm, will illustrate what life is like for those that work, travel and live near motorways.
General enquiries
Members of the public should contact the Highways Agency Information Line on 0300 123 5000.
Media enquiries
Journalists should contact the Highways Agency press office on 0844 693 1448 and use the menu to speak to the most appropriate press officer.
Published 5 September 2014