Resignation of Middle East Envoy Senator George Mitchell
Foreign Secretary William Hague recognises the contributions Senator George Mitchell made in both the Middle East and Northern Ireland.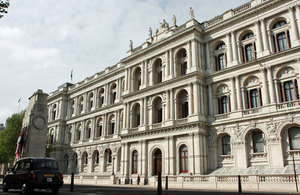 Foreign Secretary, William Hague, said:
"Senator George Mitchell pursued his role as US Middle East Envoy with commitment and resolve in very difficult circumstances. His contribution to the search for peace in the region is unquestionable. I am convinced that negotiations remain the best way to secure a lasting peace in the region, and am grateful for Senator Mitchell's work towards this goal. The recent developments in the Middle East make ending the Israeli-Palestinian conflict more urgent, not less. We look forward to working with Acting US Envoy David Hale to build on Senator Mitchell's efforts to secure a comprehensive and lasting peace between Palestinians and Israelis.
"In Britain, we also remember Senator Mitchell's invaluable role in bringing peace to Northern Ireland. He has had an illustrious career by any standards. I wish him well for the future."
Published 14 May 2011