Reshuffle: New ministers for international development
Rt Hon Justine Greening MP and Lynne Featherstone MP have been appointed as new ministers for international development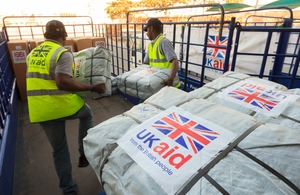 The Prime Minister has appointed Rt Hon Justine Greening MP as Secretary of State for International Development and Lynne Featherstone MP as Parliamentary Under-Secretary of State. Alan Duncan remains in his post as Minister of State.
The Rt Hon Justine Greening MP was appointed by the Prime Minister as Secretary of State for International Development yesterday.
On arriving at DFID Greening said:
"I'm delighted to have been appointed International Development Secretary to lead the Government's work to promote development around the world. This Government has radically overhauled the way in which British taxpayers' money is spent helping the world's poorest people, making it more transparent, focused and better value for money. But there is no doubt more we can do. 
Britain is playing a leading role in shaping the international agenda beyond the Millennium Development Goals. I am proud to have the opportunity to play a key part in this vital work and I look forward to continuing the strong working relationships that my predecessor Andrew Mitchell established with DFID's partners in the international development community."
The Rt Hon Justine Greening is MP for Putney, Roehampton and Southfields. Born in Rotherham, South Yorkshire, Justine attended her local comprehensive school before studying economics at Southampton University. She has an MBA from the London Business School and was a Finance Manager at Centrica plc before being elected as the Member of Parliament in May 2005.
Following her election Justine was appointed as a Vice Chairman of the Conservative Party, with responsibility for youth. As well as previously being a member of the Work and Pensions Select Committee, in 2007 Justine became a Shadow Treasury Minister and in January 2009 became the Shadow Minister for London. Justine was Economic Secretary to the Treasury from May 2010 to October 2011 and most recently was the Secretary of State for Transport.
Parliamentary Under-Secretary of State - Lynne Featherstone MP
Lynne Featherstone is MP for Hornsey and Wood Green. Today she was appointed as Parliamentary Under-Secretary of State for International Development.
Previously, she served as Home Office Minister for Equalities and Criminal Information.
Featherstone served as the Liberal Democrat's international development spokesperson in 2006, before moving on to be their youth and equalities spokesperson in 2007. 
Prior to that, she was elected to Haringey Council in 1998 (a position she held until 2006), and in 2000, she was elected to the London Assembly, where she chaired the transport committee and served on the health and standards committees and the Metropolitan Police Authority.
Before becoming involved in politics, Lynne ran her own design company, and was a strategic design consultant.
In her spare time, she has volunteered in the Royal Free Hospital.
Published 5 September 2012