Reservists wear uniforms to work as Olympic call-out notices issued
Reservists across the country are wearing their Service uniforms to work today, in the week before Armed Forces Day and as they receive their call-out notices to help provide security for the London 2012 Olympic Games.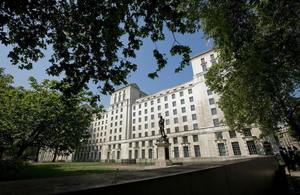 Over 1,900 reservists in total from all three Services have volunteered for the London 2012 Games and 250 have now begun training for what will be the largest ever single peacetime deployment.
Their call-up comes as reservists take part in 'Uniform to Work Day', a national event when reservists demonstrate the huge contribution that ordinary citizens can make to the Armed Forces.
While the first group of dedicated reservists are busy training, thousands more across the country - from gardeners to bankers - are hanging up their usual work clothes and proudly donning their Service uniforms to show that the Armed Forces are made up of people from all sections of the community.
Many of those wearing their uniforms today will have deployed on at least one tour of duty.
Defence Secretary Philip Hammond said:
Reservists are a vital part of our Armed Forces - some 700 of them are currently deployed in Afghanistan.

Both Uniform to Work Day and the London 2012 Games highlight their importance, not only providing valuable support on front line operations, but in wider society too.
The London 2012 Games will see the biggest single peacetime deployment of the Reserves. As we reshape our land forces to face the future threats, the Reserves will be playing a much larger role with increased training, equipment and deployability following an investment of £1.8bn.
Major General The Duke of Westminster, Deputy Commander Land Forces and the most senior Army reservist, said:
I have seen our reservists at their Olympic training this week and was bowled over by their enthusiasm and skills.

Reservists come from every walk of life, from communities up and down the country, and people should feel proud to show their support today. The employers of reservists should also be proud to show their support today.

We thank employers for their continued support - reservists bring much valuable expertise into the military, but also return benefits gained during their service to their employers and society.
Royal Naval Reserve Able Seaman (AB) Harnish Patel is a chartered surveyor and has been a reservist for two years. He has been mobilised to serve during the Olympics.
AB Patel said:
I am very lucky to have been picked to represent the Royal Naval Reserve on behalf of many of my fellow reservists who are deployed in Afghanistan and around the world. I am sure they will be pleased to know that the Naval Reserves will be playing their part in the huge spectacle of the Games.
Major Jenny Jackson is a practice nurse and joined the Territorial Army 30 years ago. She will be the medical co-ordinator for the military during the Olympics. Major Jackson said:
Assisting the UK's efforts to host the Olympics is one of many tasks I have carried out in my Territorial Army career. It is, however, by far the most prestigious.
Senior Aircraftman (SAC) Kai Burman is a flight operations controller based at RAF Northolt. The 36-year-old will be working in Air Traffic Control to help manage UK airspace during the Games.
SAC Burman said:
For previous Uniform to Work Days I have gone to work in my RAF uniform which always prompts a few questions from my colleagues. This year, for the first time, I will be on duty as a reservist on the day itself.
The Chiefs of Staff from all three Services will today meet with reservists to support Uniform to Work Day.
The First Sea Lord, Admiral Sir Mark Stanhope, will meet Lieutenant Commander Michael Colyer, a chartered accountant, in Whitby. The Chief of the General Staff, General Sir Peter Wall, will meet reservists from the Honourable Artillery Company and The London Regiment over breakfast in London. Chief of the Air Staff, Air Chief Marshal Sir Stephen Dalton, will meet with Royal Auxiliary Air Force Corporal Jason Finnegan, a detective with Hertfordshire Police, during a visit to their headquarters.
There are around 38,000 people across the UK who give up their time to be part of the Armed Forces Reserves. Reservists have been deployed around 27,000 times since 2003 on operations around the globe, including Afghanistan and in support of operations in Libya last year.
Uniform to Work Day is just one event in a week-long celebration of the Armed Forces, which culminates in Armed Forces Day on Saturday, 30 June. This year, the national focus of celebrations will be in Plymouth.
To support Armed Forces Day, the public are being encouraged to organise or attend events on Saturday, or to 'like' the Armed Forces Day Facebook page. For further information see the Armed Forces Day website at Related Links.
Please tell us what you think about government news on the web by filling in the short survey at Related Links.
Published 27 June 2012