Reservists wear uniforms to work
Chiefs of Staff from all three services lent their support to Uniform to Work Day, by joining Reservists who wore their uniform to work and …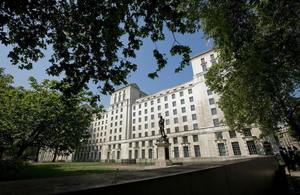 Chiefs of Staff from all three services lent their support to Uniform to Work Day, by joining Reservists who wore their uniform to work and by taking public transport to the Ministry of Defence.
Three London-based Reservists - Able Seaman Richie Wilkinson, Lance Corporal Mark Herbage and Flight Lieutenant James Morris - also jumped on Boris Bikes earlier in the week to undertake their daily commute through the city and promote the event.
Uniform to Work Day has been organised as part of the build up to Armed Forces Day on Saturday, 25 June 2011, which celebrates all of those who make up the Armed Forces Family. It also provides an opportunity to celebrate the role of the Reserves and to show the public the Armed Forces are made up of people from all sections of the community.
Reservists provide valuable support to the Regular Armed Forces and are deployed on operations, including Opertaion HERRICK (Afghanistan) and Operation ELLAMY (Libya).
To demonstrate their commitment, both the Chief of the General Staff, General Sir Peter Wall, and the First Sea Lord, Admiral Sir Mark Stanhope, joined Reservists on their way to work.
Gen Wall and Territorial Army (TA) soldiers, Lance Corporal Phil Vergottini, Lieutenant David McConkey and Ranger Michael Noonan, all took the Tube to the Ministry of Defence offices, while Admiral Stanhope took a river taxi to work accompanied by AB Wilkinson, from the Royal Naval Reservists, and Lieutenant Ollie Clark, from the Royal Navy.
LCpl Vergottini is a tube driver on the Northern Line and last year he left civvy street for a six-month tour of Afghanistan, where he was part of the Counter-IED (Improvised Explosive Device) Task Force, providing infantry support for the specialist C-IED operators.
LCpl Vergottini said:
I'm proud of being part of the TA and all that I've achieved there, and today is an opportunity for me to show the public that, behind my usual work clothes, I also serve my country. I completed a tour of Afghanistan last year, but most of the time I look like any other civilian.

The support we get from the public and our employers on Uniform to Work Day is a huge boost to morale for me and my fellow TA soldiers.
Meeting them today, Gen Wall said:
I am very pleased to have this opportunity to show my support for our TA soldiers by meeting LCpl Vergottini at his place of work, and enjoy a ride in his driver's cab. The value and ethos of the Army can only enhance our TA soldiers' performance in their peacetime roles. I am delighted to witness this first hand.
Admiral Stanhope agreed with these sentiments and added:
Many of our Reserve Sailors and Royal Marines will, today, wear their uniform to work; either with their civilian employer or as part of the Royal Navy and Royal Marines deployed on operations where they are contributing to regional stability in Afghanistan, conducting counter-piracy operations in the Indian Ocean, and supporting the UN Arms embargo and No-Fly Zone off Libya.
Whether Regular or Reserve, Veteran or Cadet, we remember with huge pride and gratitude their service for their nation.
Chief of the Air Staff, Air Chief Marshal Sir Stephen Dalton, said:
The Royal Air Force, as well as embedded Royal Auxiliary Air Force colleagues and a number of sponsored reserves, is deployed on operations around the world. Together they are delivering critical elements of this country's operational capability both in the air and on the ground.

This integrated 'whole force air component concept' allows our people, who are the bedrock of our capability, to work, fight and fly as a seamless air power team. On Uniform to Work day I join colleagues, friends, families and employers in paying particular tribute to our Reservist personnel for their tremendous commitment and service.
There are around 38,000 people across the UK who give up their time to be part of the Armed Forces Reserves.
Reservists have been deployed around 24,000 times since 2003, on operations around the globe, including Afghanistan and in support of operations in Libya.
Published 22 June 2011