Reservist RAF nurse completes first tour of Afghanistan
A Royal Auxiliary Air Force (RAuxAF) nurse has returned to the UK after completing her first tour of Afghanistan where she managed several of the wards in the Camp Bastion hospital.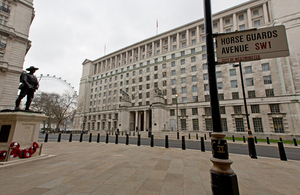 Squadron Leader Jane Thomson flew back to Scotland last week along with some of her RAuxAF colleagues from 612 Squadron, based at RAF Leuchars in Fife.
Her name might be familiar to some as her work in Afghanistan providing medical care to British troops featured in the ITV documentary 'Women on the Frontline' viewed by millions earlier this year.
Today, 15 per cent of all deployed RAF medics are reservists, with the military recognising the value of having experienced NHS personnel on operations.
Sqn Ldr Thomson, who has been a reservist for nine years, is in her day job a Clinical Nurse Specialist at NHS Forth Valley, a job which prepared her very well for what she would experience in Afghanistan. She said:
I enjoyed working with Army, Navy and RAF and US colleagues. I was able to share my experience of patient safety work in the NHS, which also enabled the Patient Multinational Safety Group to be formed.
Following a major incident, I was proud of how the team worked well together to cope with the amount of casualties received.
Listening to the stories of patients, their experiences on the front line, that stays with you. On the whole it was a great privilege to have been part of Op HERRICK and to have worked in what must be one of the world's busiest trauma centres.
Although this was her first deployment to Afghanistan, Sqn Ldr Thomson is no stranger to war zones, with a tour of Iraq under her belt:
Having been deployed to Iraq before, this tour has been totally different. It has had a much higher tempo, and working in coalition with so many nationalities was a new experience.
I worked with an amazing team of professionals and found all my leadership skills tested to the full. My biggest challenge was to build a multinational and tri-Service team with new personnel.
At Camp Bastion, Sqn Ldr Thomson's living quarters were a tented 'pod' she shared with seven other female hospital heads of department on the base.
She continued:
My working hours were Monday to Sunday, 0800 till late. No two days were ever the same out there. Even the weather was changeable, with showers, just like Scotland, but with a bit more sand and higher temperatures!
During her deployment in Afghanistan, Sqn Ldr Thomson was visited by ITV Tonight presenter Julie Etchingham as part of filming for the documentary 'Women on the Frontline' to show what life was like at Camp Bastion.
Julie accompanied Sqn Ldr Thomson on her rounds and watched her at work, which was a little nerve-wracking to begin with.
Sqn Ldr Thomson said:
I was initially nervous, however I was delighted to be asked to be in the film. My family and friends were very proud of me!