Research your family history at the 'Who do you think we are' exhibition
The General Register Office are at the 'Who Do You Think You Are?' show at Kensington Olympia Exhibition Centre from 25 to 27 February 2011.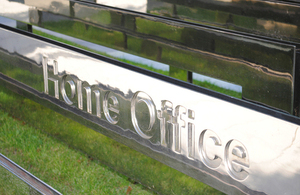 The GRO, now a part of the Identity and Passport Service (IPS) started in 1837 and is one of the oldest and authoritative providers of birth, marriage and death certificates in the world. 
The GRO provides a 'one-stop-shop' certificate service for as little as £9.25 for people tracing their family tree and people who need a certificate for legal and administrative services - the only source that can do this across England and Wales.
They are also a valuable source of information for life events, providing advice to people getting married who are looking for locations and fees, as well as when registering births and deaths.
Registrar general and chief executive of IPS Sarah Rapson, urged those new to researching family history to have a look at the services GRO can offer: 'If you're new to family history research it pays to shop around when you want to order certificates.
'We are the only verified source of these certificates and if you choose to order them via the General Register Office online ordering service you can pay as little as £9.25 for a standard service or £23.40 for a priority next day service.  On some sites, unwary buyers face paying as much as £62 for a next day despatch certificate.'
Over 90 per cent of applications are now made online through Directgov and the service delivered two million certificates in 2009/2010. GRO is the central source of birth, marriage and death records for England and Wales and therefore one of the main providers of certificates to the family history market supplying certificates to a growing number of online sites.
Online sites often act as a middle man processing requests for certificates and adding a mark-up on the price of a certificate which customers can avoid by ordering direct from GRO.
So if you want to find out more about GRO services and about researching your family records, GRO will be on stand 607 at the show to offer expert advice.
The 'Who Do You Think You Are Show?' is a three day event bringing together renowned historians, celebrities and family history experts in a one-stop-genealogy-shop.
Notes to editors
1. The GRO online ordering service currently receives more than 4,500 online orders per day and 2.5 million views per month. In 2009/2010 we issued over 2 million certificates. 
2. Public information about registering births, marriages and deaths in England and Wales is now available on Directgov www.direct.gov.uk.
3. For further information on the event visit the Who Do You Think You Are? Live website  http://www.whodoyouthinkyouarelive.co.uk/
Published 24 February 2011