Research shows companies can save money by helping the environment
Improving resource efficiency is key to a green economy, providing benefits for businesses and the environment while boosting the UK economy.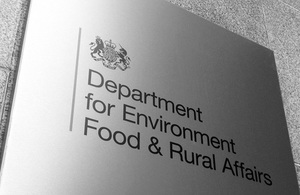 British businesses can save around £23 billion a year by improving the way they use energy and water, and by reducing waste, according to research published today by Environment Secretary Caroline Spelman.
The research identifies these huge potential savings to UK businesses from what is known as 'resource efficiency' - using materials, energy and water more efficiently in ways that need very little or no investment. Improving resource efficiency is a key part of the transition to a green economy, providing benefits for businesses and the environment while boosting the UK economy. It also shows that the savings could be even greater when the potential from longer term investment is included. These savings could improve competitiveness and employment opportunities for British business.
Most of the potential low cost savings come from using raw materials more efficiently and generating less waste. This is calculated to offer an annual saving of around £18 billion. Energy (£4 billion) and water (less than £1 billion) efficiency make up the remainder.
Unveiling the research Environment Secretary Caroline Spelman said:
"Moving to a green economy offers businesses opportunities to grow into the future. Becoming more resource efficient contributes to a business's bottom line, increases profitability and their capacity to grow. In addition to improving competitiveness, businesses could reduce carbon emissions by 29 million tonnes a year; so it's a win-win for business and the environment."
The research shows that some good progress has been made by business in being more efficient in the way they use resources, but there are still considerable opportunities out there. It identifies the main barriers to taking the necessary action as behavioural, financial and a lack of information. 
Richard Gillies, Director of Plan A at Marks & Spencer, said: 
"From our own experience, going green is good for business as well as being good for the environment. Last year Plan A, our eco and ethical programme, made a profit of £50 million which has been reinvested back into in the business. We've achieved this by becoming more efficient - for example using less energy, less packaging and recycling more - and by opening up new streams of revenue."
The Waste & Resources Action Programme (WRAP) has been working with businesses on resource efficiency. This partnership approach has led to the establishment of a number of voluntary agreements across different sectors all of which have secured financial and environmental benefits.
The research project, prepared by Oakdene Hollins, looks at the potential financial and environmental savings to UK businesses from improved resource efficiency. It uses updated figures to a similar project published in 2007 to calculate the total savings potential of £23 billion per year.
Notes
The research and more information on Defra's resource efficiency work programme can be viewed on the Defra website here: http://www.defra.gov.uk/environment/economy/business-efficiency/
Details of WRAP's voluntary agreements can be found here: http://www.wrap.org.uk/retail_supply_chain/voluntary_agreements/
More information on Marks & Spencer's Plan A commitments can be viewed here: http://plana.marksandspencer.com
Information and advice for all businesses on how to get started on making simple resource efficiency improvements is available on at: http://www.businesslink.gov.uk
Key Facts
* The £23 billion potential identified is spread across all sectors, but with the greatest potential being identified in chemicals (c. £4 billion), metal manufacturing (c. £4 billion), power and utilities (c. £3 billion), construction (c. £3 billion) and road freight (c. £2 billion).
* The majority of the potential savings come from using raw materials more efficiently and generating less waste (c. £18 billion), the remainder from energy efficiency (c. £4 billion) and water efficiency (less than £1 billion).
* Further savings of about £33 billion a year could potentially be made through measures involving investments with a longer payback period - a total of some £55-£56 billion a year altogether.
* Realising all these (both short and longer term) savings would also cut UK greenhouse gas emissions by about 13% (90 million tonnes CO2equivalent) - so this is a win-win for the individual business bottom line and for the environment.
* Previous, similar research for Defra in 2007 identified potential resource efficiency savings to UK businesses of £6.4 billion a year - the much bigger potential savings identified in this new research results from new information on savings from waste prevention in manufacturing ('lean manufacturing').
* Around 20% of the original £6.4 billion potential has already been realised as businesses have used resource efficiency measures to remain competitive during the downturn.
* A survey for Envirowise found that almost three quarters (73%) of businesses say they have developed a more detailed knowledge of their spending and resource use as a result of the recession, and this 'thrift shift' is set to continue, with around 80% of respondents citing resource efficiency measures among possible legacies of the recession.
Published 11 March 2011