News story
Research shared in online get-together
A webinar sharing session has provided valuable feedback to researchers, businesses and sites involved in a series of innovative projects focused on nuclear decommissioning and waste.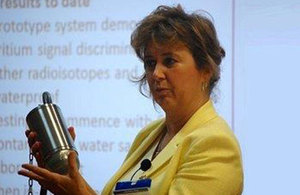 Innovate UK, NDA and DECC are funding the collaborative R&D and feasibility studies, which are aimed at encouraging innovation in the civil nuclear fission power sector and developing a robust, innovative UK supply chain.
The research projects are being undertaken across the UK. They involve partnerships between supply chain businesses and nuclear sites.
In 2014, a competition by Innovate UK (with NDA and DECC) awarded funding support to help UK businesses benefit from the growing opportunities in all sectors of the nuclear industry, including power generation and decommissioning. The competition's priorities were to foster:
technology transfer
sharing from other sectors and companies, particularly small and medium-sized enterprises (SMEs)
Last month, Innovate UK's Knowledge Transfer Network streamed decommissioning and waste management presentations from participating organisations. The audience included representatives from the Nuclear Waste and Decommissioning Research Forum (NWDRF). The presentations comprised 5-minute project overviews, followed by a question and answer session. The live webcast meant that people could watch remotely and ask questions online. This provided feedback from technology end-users to the researchers as the projects progress. It was a good example of a knowledge-sharing event.
Watch and listen to recorded research webinar by KTN
Presentation themes included:
TRIBECA (TRItium detection By ElectroChemically Assisted radiometrics)
Submersible treatment of pond waters
Large-scale hot-isostatic pressing of waste forms for the treatment of Magnox sludge and other wastes
DEnsification processing of a Ceramic MAtrix composite material for nuclear waste containment (DECMAN)
High dynamic range spectroscopic radiation detectors
SeeSnake
In-Situ monitoring of tritium and carbon 14 in groundwater
New techniques for the rapid characterisation of low-level waste and surface contamination
Improving the decommissioning process with intelligent semantic building histories
Novel system for localised, real-time radiometric measurements of ground water at civil nuclear sites
SmartScan
D:EEP : Estimating Entrained Products
Pre-industrial research of horizontal sludge dredge
Thermal treatment of irradiated graphite
Flexible charged particle detector for nuclear decommissioning
ELENDES II (Electrochemical Enhancement of Nuclear Decontamination Solutions)
Plasma vitrification
Published 9 July 2015