Press release
Research on green claims
Defra has today published research on claims about environmental performance on products and packaging.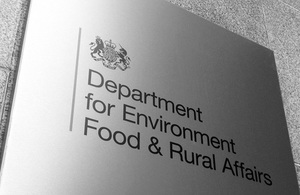 The research examined the number and types of claims being made. This will be used to inform Defra's work to update the Green Claims Code.
Environment Minister Lord Henley said:
"Marketing and packaging increasingly tell us about the environmental credentials of everything from washing powder to cars.
"While it's good news that manufacturers are trying to reduce the environmental impact of their products, as consumers we need to know that the claims being made are not misleading, otherwise we will stop using our purchasing power to do the right thing.
"This research assesses which green claims are currently made and I am looking forward to the findings being used to help Defra to update the Green Claims Code."
This is the latest in a series of projects commissioned to contribute to the update of the green claims code.  Previous projects examined green claims in marketing and consumer understanding of green claims and specific terminology.
To view all published research projects visit: archive.defra.gov.uk/environment/business/scp/evidence/theme2/products0910.htm
Published 6 July 2010