World news story
Representative of the International Commission against the Death Penalty visits Congress
The General Secretary of the International Commission against the Death Penalty (ICDP), Asunta Vivó Cavaller, met with members of Congress in the framework of a one week visit from 21 to 26 February to promote the establishment a moratorium on the death penalty in Guatemala as a step towards abolition.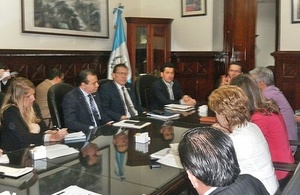 The arrival of Vivó Cavaller occurs in the context of a project funded by the United Kingdom that seeks to strengthen the arguments against the implementation of the death penalty in Guatemala with decision-makers and civil society. The project is implemented by the Office of Human Rights of the Archdioceses of Guatemala (ODHAG).
Vivó Cavaller held meetings with the President, Heads of Political Blocks and the Commission on Human Rights and Security of Congress. She also met with representatives of the executive branch, the Office of Human Rights and the Ministry of Foreign Affairs, amongst others.
Vivó Cavaller and representatives of civil society reiterated that since 1985, with the promulgation of the Constitution of the Republic, the repeal of Legislative Decree 159 of 1892, the Decree 32-2000, the Case 2005 of the Inter-American Court of Human Rights, and domestic law, the State of Guatemala has no technical or legal ability to implement and enforce the death penalty.
As the debate on the death penalty in Guatemala is again in the news, Vivó Cavaller and social organizations noted that the application of the death penalty would not solve the underlying problems or the crisis the country faces in the security and justice sectors. Studies made by the ICDP show that the death penalty does not create, nor advocate a deterrent effect. In countries where the death penalty is not applied crime rates do not increase.
Vivó Cavaller proposed instead the strengthening of the independence of legal institutions, and to modernize the prisons system, institutionalize transparent reinsertion programmes, and work on rehabilitation; she also urged Guatemala to continue its battle to dismantle illegal groups and clandestine security organizations and improve the system of criminal investigation.
The ICDP is made up of diverse personalities of internationally recognized human rights background. The CIPM is run by a group of members of the worldwide High Level Commission. These luminaries include former presidents, former prime ministers, former ministers, former senior officials of the United Nations, a former US state governor, a former judge and president of the International Court of Justice, a judge of the Supreme Court and an academic leader.
The work of the CIPM is supported and financed by a geographically diverse group of 18 countries committed to the abolition of the death penalty. The Support Group is composed of the following States: Algeria, Argentina, Belgium, Dominican Republic, France, Italy, Kazakhstan, Mexico, Mongolia, Norway, Philippines, Portugal, South Africa, Spain, Switzerland, Togo, Turkey and United Kingdom.
Published 22 February 2016