Report warns of hidden hunger crisis
Up to 300 children die because of a lack of nutritious food every hour every day, according to a new report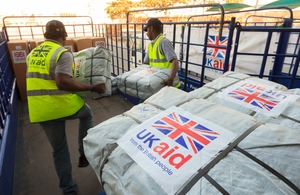 A new report from Save the Children addresses the challenge to tackle rising hunger and malnutrition in some of the world's poorest countries.
The publication draws attention to ongoing food insecurity beyond the immediate hunger emergencies seen in Africa over the past year, claiming up to 300 children die around the world because of a lack of nutritious food every hour every day.
Record food prices are highlighted as a key factor, forcing nearly a quarter of a billion parents in the developing world to cut back on food for their families.
The report - titled A Life Free From Hunger - surveyed families in India, Bangladesh, Peru, Pakistan and Nigeria - five of the worst affected countries where half of the world's malnourished children live.
The agency's own research also points to the longer term impacts, suggesting that if current trends continue, the lives of more than 450 million children globally will be affected by stunting in the next 15 years due to malnutrition.
Save the Children Chief Executive Justin Forsyth said:
The world has made dramatic progress in reducing child deaths, down from 12 to 7.6 million, but this momentum will stall if we fail to tackle malnutrition.
Responding to the report, Development Secretary Andrew Mitchell said:
Britain has led the world in tackling food insecurity in the Horn of Africa and will reach 20 million children at risk of malnutrition in the developing world by 2015.

We are looking further ahead too, supporting scientific research into more sustainable and nutritious crops while addressing the underlying causes of food shortages and malnutrition, from educating farmers and building better roads through to resolving regional conflicts and improving local governments.

It is absolutely right to focus on the issue of hunger and malnutrition and Britain will continue to urge other countries to match our own efforts in this area.
Britain has set out its approach to tackling undernutrition over the next four years. UK aid will focus on increasing the reach of direct interventions that are known to work - such as a tackling vitamin deficiency - as well as building nutrition strategies into its wider work across agriculture, health and education.
Published 15 February 2012