Report on British Policy on Iran 1974-1978 released
The document was commissioned in 1979 by the then Foreign Secretary, Lord Owen.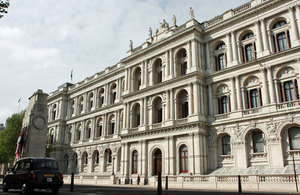 The purpose of the report was to enable a detailed examination of the context of the events leading to the Iranian revolution, and in so doing to allow the FCO to identify any lessons that might be learned from the UK's reactions to, and analysis of, the events concerned. The report can be read in full on our historical publications page and downloaded in PDF format.
This is a historical document, which provides an interesting snapshot of British policy at a particular moment in time and should be read in this light.
Nonetheless, the FCO is keen to learn from its history. On 26 October 2010, a high-level seminar was held to discuss the lessons learned from the UK's failure to predict the Iranian Revolution.
FCO Political Director Sir Geoffrey Adams who chaired the seminar said:
"I just think [the report was] a good example of an organisation, in this case the Foreign Office, taking, I felt, a frank and honest look at… an area where policy had been particularly challenging.
"In other words, that the British government had not correctly forecast the Islamic revolution of 1979 in Iran. And I felt that it was important the we should know not only amongst ourselves but also more widely that a serious exercise had been carried out at the time to analyse the reasons for that and to draw specific conclusions for the way we should work to try and do better in the future."
Lessons include that the FCO's political analysis and reporting should be drawn from a wide variety of sources - from opposition groups, to journalists, to academics.
Published 15 December 2010