Press release
Report of the Hallett Review published
Lady Justice Hallett was appointed in February to produce a full public account of the administrative scheme for so-called 'on-the-runs'.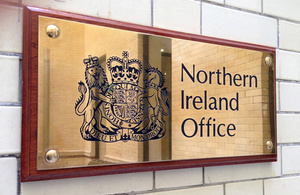 The government today laid in Parliament the report from Lady Justice Hallett's review of the 'on-the-runs' (OTRs) administrative scheme.
The inquiry was commissioned by the Prime Minister in February, following the collapse of the trial against John Downey. It was carried out by Lady Justice Hallett and a small team of legal and policy advisers, independent of government. They were tasked with:
producing a full public account of the operation and extent of the scheme
determining whether any letters sent contained errors
making recommendations as necessary
Under the administrative scheme, individuals residing outside the jurisdiction could inquire whether or not they were at risk of arrest if they returned to Northern Ireland, or the rest of the UK.
Lady Justice Hallett's report includes a detailed examination of the evidence and a clear set of conclusions and recommendations.
The report was presented to Parliament by the Secretary of State for Northern Ireland, Rt Hon Theresa Villiers MP. She said:
This Sunday marks the 32nd anniversary the Hyde Park bombing. I know that recent events have revived painful memories for those affected by that terrible atrocity and I apologise again on behalf of this government for any hurt this has caused.
In setting up this review, we acted quickly to address the very real public concerns about the on-the-runs scheme. I hope today's report helps answer many of the questions raised over the last few months.
I fully accept the Hallett report's conclusions and recommendations, and am determined that the government will act on them. But as I have said before, as far as this government is concerned the OTR scheme is over.
Lady Justice Hallett's report states categorically that the scheme did not amount to an amnesty for terrorists and that the letters did not represent 'get out of jail free' cards. It was always clear that should sufficient evidence later about emerge individuals who had received such a letter, then they would still be liable for arrest and prosecution in the normal way.
The judgment in the case against John Downey was the result of an error. The government will now take whatever steps are necessary, on the basis of legal advice and in conjunction with the police and prosecutors, to do everything possible to remove barriers to future prosecutions.
This episode reinforces the need to make progress on addressing contentious issues including flags, parading and the past. On the past we need a transparent, accountable and balanced process that commands support across the community. The government will continue to work intensively towards that end.
My warmest thanks to Lady Justice Hallett and her team for completing this review. I am sure anyone reading it will be left in no doubt that it has been a rigorous, thorough process.
Published 17 July 2014