Press release
Report 12/2016: Passenger accident at Hayes & Harlington station
RAIB has today released its report into passenger trapped in train doors and dragged along the platform at Hayes & Harlington station, 25 July 2015.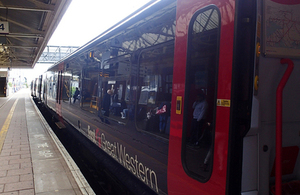 Summary
At around 13:10 hrs on 25 July 2015, a passenger was dragged along the platform at Hayes & Harlington station, London, when the 11:37 hrs First Great Western service from Oxford to London Paddington departed while her hand was trapped in a door. The passenger, who had arrived on the platform as the doors were about to close, had placed her hand between the closing door leaves.
The train driver did not identify that the passenger was trapped and the train moved off, dragging the passenger along the platform. After being dragged for about 19 metres, the passenger lost her footing and fell onto the platform. The passenger suffered head, hand and back injuries.
RAIB's investigation found that the passenger had deliberately placed her hand in the closing door in the expectation that it would re-open as a consequence. RAIB has concluded that after closing the doors of the train, the driver either did not make a final check that it was safe to depart, or that the check was insufficiently detailed to allow him to identify the trapped passenger. The driver may have been misled into thinking that it was safe to depart because a door interlock light in his cab had illuminated, indicating that the doors were closed and locked and he was able to take power.
Our investigation identified that the train driver and other railway staff held the same misunderstanding: if someone had a hand trapped in a door it would not be possible for the door interlock light to illuminate and a driver to take power. This is not the case, and the door was found to be compliant with all applicable standards after the accident.
Recommendations
As a consequence of this investigation, RAIB has made two recommendations.
The first, addressed to RSSB to review, and if necessary extend, its research into the passenger/train interface to understand passenger behaviour and identify means for deterring members of the public from obstructing train doors.
The second recommendation is addressed to operators and owners of trains similar to the one involved in the accident at Hayes & Harlington, is intended to continue and expand upon a current review into the practicability of fitting sensitive door edge technology to this type of train.
RAIB has also identified three learning points. The first concerns improving awareness among train drivers of the limitations of train door interlocking technology and the importance of the final safety check when dispatching a train.
The second concerns the potential for drivers to be distracted by the use of mobile communication devices while driving.
The third is aimed at train operators to have the necessary processes in place to identify drivers who are showing signs of sub-standard performance or not engaging positively with measures agreed as part of a Competence Development Plan and the provision of briefing and guidance material for driver managers to enable them to identify behaviours and attitudes which are inconsistent with those expected of train drivers.
On publication of RAIB's report concerning a 'trap and drag' accident involving a passenger at Hayes & Harlington station, Simon French, Chief Inspector of Rail Accidents, said:
RAIB's role is the independent investigation of accidents in order to improve railway safety and inform the industry and public. During the last ten years of fulfilling this important role, we have investigated a total of eight accidents on the main-line network in which train dispatch was a factor. These have included dispatch by platform staff (2), guards (2) and drivers (4). In five of these cases a passenger became trapped in a train door and was subsequently dragged as the train departed. In three of these 'trap and drag' accidents the train dispatch was managed by the driver rather than a guard or platform staff - a method of operation commonly known as 'Driver Only Operation' (DOO).
Since RAIB is now publishing its report concerning a 'trap and drag' accident involving a passenger at Hayes & Harlington station in July 2015, I would like to highlight three important safety lessons from all of our investigations into accidents of this type. These are:
train doors can trap hands, or objects such as bag straps and clothing, and door interlocks may not always detect their presence (so enabling the train to drive out of the platform)
it can sometimes be difficult for passengers to remove hands or objects that are trapped in closed train doors
the great importance of dispatchers, be they station staff, guards or drivers, always performing a thorough final safety check to confirm that it is safe to depart.
The investigation into the accident at Hayes & Harlington revealed a widespread lack of understanding of these points among some train crew and their managers. It was for this reason that we issued an Urgent Safety Advice on 30 November 2015 reminding train operating companies and their staff of the absolute necessity of carrying out the final check after the doors are closed, to confirm that nobody is trapped in the doors or too close to the train.
Although our investigations cover too small a sample for us to draw conclusions about the relative safety of different methods of train dispatch, we have found no evidence to suggest that driver only operated trains cannot be dispatched safely. However, as for all methods of train dispatch, safety is dependent on:
the provision of suitable equipment (eg cameras and CCTV monitors)
rigorous compliance with safety rules by trained operating staff
effective management of risk at stations, particularly where visibility is poor or platforms are crowded.
Notes to editors
The sole purpose of RAIB investigations is to prevent future accidents and incidents and improve railway safety. RAIB does not establish blame, liability or carry out prosecutions.
RAIB operates, as far as possible, in an open and transparent manner. While our investigations are completely independent of the railway industry, we do maintain close liaison with railway companies and if we discover matters that may affect the safety of the railway, we make sure that information about them is circulated to the right people as soon as possible, and certainly long before publication of our final report.
For media enquiries, please call 01932 440015.
Newsdate: 30 June 2016
Published 30 June 2016