Press release
Report 05/2018: Explosion inside an underframe equipment case at Guildford
RAIB has today released its report into an explosion inside an underframe equipment case at Guildford, 7 July 2017.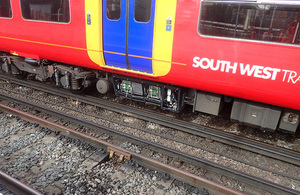 Summary
At approximately 14:37 hrs on 7 July 2017, an explosion occurred in an underframe equipment case on train 2G44, the 14:37 hrs Guildford to London Waterloo service, as it was about to depart from platform 2 at Guildford station. The explosion resulted in debris being ejected onto other platforms and a car park near the station. There were no injuries to passengers or staff. There was damage to the train, and to station furniture.
The explosion was caused by an accumulation of flammable gases within the traction equipment case under one of the coaches of the train. The gases had been generated following a failure within a large electrical capacitor located within the equipment case. The capacitor failure was caused by a manufacturing defect.
The traction equipment on this train had been recently retrofitted, replacing older equipment with a modern version. The failed capacitor was part of this replacement equipment. The design and installation of this new equipment was managed by a project team which had not adequately considered the risk of explosion caused by a capacitor with a manufacturing defect. Consequently, the train did not have any engineering safeguards to prevent such an explosion.
Recommendations
As a result of the investigation, the RAIB has made one recommendation to UK train operating companies and the suppliers of their rolling stock. The recommendation relates to reviewing the design of electric traction systems in their fleets to check that there are adequate safeguards in place to prevent similar potentially harmful explosions and address any shortcomings identified.
The RAIB has also identified six learning points. These cover project risk management, the need for thorough investigations following technical failures, ensuring that accurate and complete records of serious failures are maintained, and ensuring that procurement specifications for future rolling stock takes into account the findings of this investigation.
Notes to editors
The sole purpose of RAIB investigations is to prevent future accidents and incidents and improve railway safety. RAIB does not establish blame, liability or carry out prosecutions.
RAIB operates, as far as possible, in an open and transparent manner. While our investigations are completely independent of the railway industry, we do maintain close liaison with railway companies and if we discover matters that may affect the safety of the railway, we make sure that information about them is circulated to the right people as soon as possible, and certainly long before publication of our final report.
For media enquiries, please call 01932 440015.
Newsdate: 20 March 2018
Published 20 March 2018