Renewing Burma sanctions is the 'right decision at the right time'
Foreign Secretary William Hague has spoken after EU Foreign Ministers voted to renew sanctions on Burma for a further 12 months.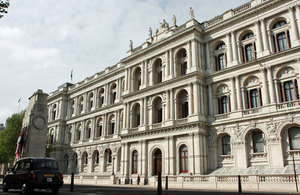 The restrictions renewed at the Foreign Affairs Council in Luxembourg include:
an arms embargo
an asset freeze and travel ban on the regime, its associates and their families
an asset freeze and investment ban on state and associate-owned enterprises
trade and investment bans on timber, precious metals and gems
a ban on development assistance to central Government and in sectors other than humanitarian work
Foreign Secretary William Hague said:
"Renewing tough but targeted sanctions is the right decision at the right time. Only last month the UN Human Rights Council condemned in the strongest possible terms systematic violations of human rights in Burma. A flawed election that has only consolidated the military regime's grip on power does not constitute progress.
"Most importantly of all, today's decision supports those pressing for change inside Burma. The National League for Democracy has called for the continuation of sanctions pending an independent expert review of their political and economic impact. The EU must support that request. The new restrictive measures agreed today are in line with Aung San Suu Kyi's wishes to promote a broad dialogue with the Government and other political groups both inside and outside Parliament to encourage a move towards more democratic institutions."
Published 12 April 2011