Press release
Reminding children to THINK!
New THINK! campaign to help children stay safe on the roads launches.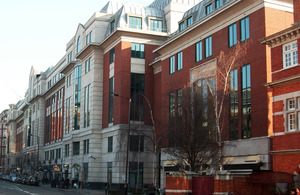 A new THINK! campaign to help children stay safe on the roads has launched today (14 October 2011) by Road Safety Minister Mike Penning.
The £700,000 campaign, which will run on television and in cinemas, is aimed at children aged 6-11 and spells out the dangers of not taking care on the roads. Television adverts will highlight the importance of finding a safe place to cross the road while the cinema campaign will remind children of the importance of making sure they can be seen when they are out after dark.
In 2010 more than 19,500 children were injured on the roads and 55 were killed.
Mike Penning said:
Britain's roads are among the safest in the world and the number of children killed or seriously injured is 72% lower today than twenty years ago. However, every death on the roads is a tragedy and we are determined to reduce these numbers further.

That is why - despite the need to cut the deficit - we are continuing to invest in child road safety campaigns to help children to understand the importance of crossing the road safely.

The television and cinema advertising campaign we are launching today (14 October 2011) will help to give children the skills and knowledge they need to stay safe as they grow more independent.
Advertising in cinemas began today and television advertising will begin on Monday 17th October.
Notes to editors
Learn more about child road safety and the Tales of the Road campaign, including road safety games and activity sheets for children.
Further road safety resources for parents, teachers and children are available from THINK!
Roads media enquiries
Media enquiries 020 7944 3021
Out of hours media enquiries 020 7944 4292
Switchboard 0300 330 3000
Published 14 October 2011