World news story
Remembrance Sunday marked in Colombo
The British High Commission in Colombo marked Remembrance Sunday with a commemoration service at the Liveramentu Commonwealth War Graves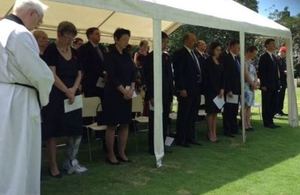 The British High Commission (BHC) in Colombo marked Remembrance Sunday with a commemoration service on Sunday, 8 November, 2015 at the Liveramentu Commonwealth War Graves at Torrington Avenue, Colombo 7. The service was presided over by Rev. Roderick Campbell, Minister of St Andrew's Scots Kirk and attended by a wide representation from the Diplomatic Corps, the War Veterans' Association of Sri Lanka and the British Community in Sri Lanka.
Buglers from the Sri Lanka Army played "Last Post" and "Reveille" marking the beginning and end of a minute's silence and wreaths of poppies were laid at the foot of the cross of sacrifice. Readings were done by the British High Commissioner H.E James Dauris, Australian High Commissioner H.E Robyn Mudie and the Japanese Ambassador H.E Kenichi Suganuma.
Remembrance Sunday is marked all around the world, as an occasion for reflection on loss and sacrifice, but also peace and reconciliation. Remembrance Day this year will be observed on Wednesday, 11 November with a two minute silence at 11 am. The occasion recalls the end of hostilities of World War I in 1918, a tradition inaugurated by King George V the following year in 1919.
Sri Lanka was involved in the First World War effort as part of the British Empire. 442 Sri Lankan lives were lost in the conflict that spanned nearly the entire globe. Globally over 9 million died, over 20 million were wounded and over 7 million were reported missing-in-action.
Today, Remembrance Sunday also serves as a reminder of the lives of British service men and women lost during more recent wars in Iraq and Afghanistan, as well as all those affected by conflict around the world.
Document information
Published: 10 November 2015