World news story
Remembrance Sunday in Denmark
Information on ceremony taking place in Copenhagen on Sunday 13 November 2016.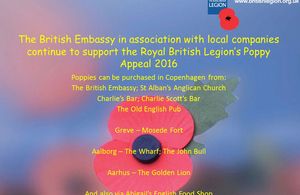 Every year on Remembrance Sunday here in Copenhagen, we and a number of other nations, including those of the Commonwealth, remember those who gave their lives in the service of their countries during the two World Wars and since.
We cordially invite you to join us on this occasion.
An inter-denominational Service of Remembrance will be held at
St Alban's Church, Churchillparken, 1263-Copenhagen K, starting at 10.30 hrs.
As the church is usually very crowded, it is advisable to come early.
There will be an Act of Remembrance and wreath-laying starting at
12.15 hrs at Bispebjerg Kirkegård, Frederiksborgvej 125, 2400 Copenhagen NV.
Everyone attending the ceremony is requested to enter by the main gate of Bispebjerg Kirkegård by 12.00hrs. Upon entering through the Main gate follow signs to "Søndre Kapel" where you will find parking available. It is only a short walk to the Commonwealth War Graves.
Published 4 November 2016