World news story
Remembrance Sunday: High Commissioner pays tribute to fallen heroes
To mark Remembrance Day, British High Commissioner Fergus Cochrane-Dyet OBE said: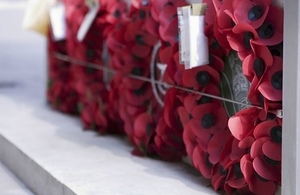 This anniversary marks the end of World War I on 11 November 1918. On this day, we pay tribute to those who made the supreme sacrifice in both World Wars so that the generations that followed could live in peace. Apart from war veterans, we should also remember all those who lost their lives, both military personnel and civilians. It is right to remember the extraordinary sacrifice of a generation and we are all indebted to them because their most enduring legacy is our liberty.

Zambia's role in the First World War is less well-known, but its contribution was no less significant. So today I express gratitude to Zambia for its contribution and we honour those from the Northern Rhodesia Regiment who gave their service.
Zambia's efforts in promoting stability and security in Africa through involvement in peacekeeping missions are commendable. UK Government is supporting Zambia on a range of areas of cooperation on defence and security and is committed to strengthening bilateral civil-military relations with Zambia. The UK is please to be at the forefront of leading international efforts to prevent, resolve and respond to conflict in the world.
Published 13 November 2016