World news story
Remembrance Sunday 2013 in Denmark
On Remembrance Sunday we remember those who gave their lives during the two World Wars. We invite you to join us on this occasion.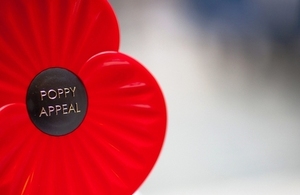 The Remembrance Day ceremony will be held at Bispebjerg Kirkegård, Frederiksborgvej 125, 2400 Copenhagen NV, on Sunday 10 November, starting at 1200 hrs. There will be a short Act of Remembrance and wreath-laying ceremony.
Everyone attending the ceremony is requested to enter by the main gate of Bispebjerg Kirkegård by 1150 hrs. Upon entering through the main gate follow the signs to "Søndre Kapel" where parking is available. At the Monument (Cross) please stand to the south of the footpath, behind those laying wreaths.
In addition to the Ceremony at Bispebjerg Kirkegård, an inter-denominational Service of Remembrance is held at St Alban's Church, Churchillparken 11, 1263 Copenhagen K starting at 1030 hrs. Due to the limited seating in St Alban's Church, it is not possible to reserve seats for this Service. As the church is usually very crowded, it is advisable to come early.
Our spirit of commemoration remains strong and is captured in the words of Lawrence Binyon when we remember and honour the sacrifice of those who have fallen so that others may live free:
"They shall grow not old as we who are left grow old Age shall not weary them, nor the years condemn At the going down of the sun and in the morning We will remember them."
Published 1 November 2013