Armistice Day and Remembrance Sunday have been marked this year by Her Majesty's Forces in Afghanistan, on board Royal Navy ships, in Army barracks and at RAF stations across the UK and around the world.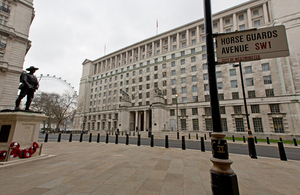 Men and women from across the Army, Navy and Royal Air Force serving at Lashkar Gah in Helmand province, where the headquarters of Task Force Helmand are based, fell silent to mark Remembrance Sunday at 1100hrs.
While in London thousands of veterans and civilians marched past the Cenotaph on Whitehall where the official wreath-laying ceremony was led by Her Majesty The Queen and members of the Royal Family along with members of the Government including Prime Minister David Cameron.
Other Remembrance Sunday ceremonies took place up and down the country and around the world.
Those in Afghanistan included one at Kandahar Airfield where hundreds of UK troops fell silent for two minutes at the Allied War Memorial at the airfield along with a large contingent of coalition troops, including Americans and Canadians.
The formal remembrance ceremony was attended by UK serving personnel based at the Airfield as well as by ISAF and NATO representatives. The ceremony concluded with the last post and the laying of a wreath by the Commanding Officer of 904 Expeditionary Air Wing (EAW). Personnel from the Royal Air Force, the Royal Navy and the Army were all present at the ceremony to pay their respects.
The Commanding Officer of 904 EAW, Group Captain Richard Barrow, said:
It is an honour and a privilege to hold this service and lay a wreath in memory of all those who have lost their lives in the service of their country. To do so here in Afghanistan is all the more poignant.
Services were also held in towns and cities up and down the length of the UK, including a remembrance service and parade in the market town of Olney in Buckinghamshire.
Published 11 November 2012