World news story
Remembrance Day: We will remember them
The British Embassy Beirut held 'Remembrance Day' service in honour of the soldiers killed during World Wars I and II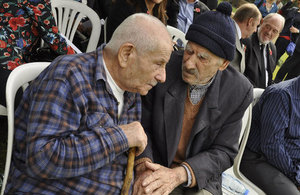 The British Embassy in Lebanon held a 'Remembrance Day' service at the Beirut Commonwealth War Grave Cemetery in honour of the soldiers who were killed during World Wars I and II, and in other conflicts.
The service was attended by British Ambassador Designate Hugo Shorter; British Defence Attaché Lt. Col. Chris Gunning; Brig.-Gen. Antoine Al Halabi, representing Lebanese Army Commander Kahwaji; Col. Rony Bitar, representing Head of the Internal Security Forces; and Gen. Fady Khawaja, representing the Director General of the General Security. Ambassadors, diplomats and military attachés of US, European and Commonwealth countries were present. Visiting British athlete and women's marathon world record holder, Paula Radcliffe, read the famous poem 'In Flanders Fields.'
At the end of the service, two minutes' silence were held before Imad Kassem from the charity 'Dar Al Awlad' laid a wreath on the memorial. A number of Lebanese and Palestinian war veterans, who served with the British army in World War II, attended with their families. Ambassador Shorter and Paula Radcliffe met the veterans to thank them for their service and hear their stories of heroism during battles fought in the Middle East and Europe.
Remembrance Sunday is marked in the United Kingdom and the Commonwealth to commemorate the contribution of British and Commonwealth military and civilian servicemen and women in the two World Wars and later conflicts. It is usually held on the nearest Sunday to 11 November, which was Armistice Day - the end of hostilities in the First World War in 1918.
The Beirut War Cemetery is the final resting place of around 1,200 soldiers, most of whom were from the UK, Australia, New Zealand, India and South Africa. The war graves are supervised by the Commonwealth War Graves Commission.
Notes to editors
Why do we wear a poppy? The poppy has a long association with Remembrance Day. In late 1914, the fields of Northern France and Flanders were once again ripped open as World War One raged through Europe's heart. Once the conflict was over the blood red poppies were one of the only plants to grow on the otherwise barren battlefields.
The significance of the poppy as a lasting memorial symbol to the fallen was realised by the Canadian surgeon John McCrae in his poem In Flanders Fields. The poppy came to represent the immeasurable sacrifice made by his comrades and quickly became a lasting memorial to those who died in World War One and later conflicts. It was adopted by The Royal British Legion as the symbol for their Poppy Appeal, in aid of those serving in the British Armed Forces, after its formation in 1921.
Document information
Published: 11 November 2015