Remembrance Day Message from Catherine Royle, British Charge d'Affaires
"People in Britain and across the Commonwealth have gathered throughout the weekend to commemorate the sacrifices made by our armed forces in past conflicts. And to honour those who have fallen in the ongoing campaign in Afghanistan.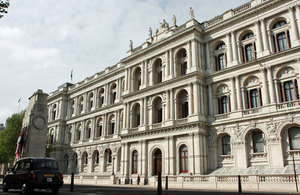 We might also reflect this year that 12 November marked ten years since coalition and Afghan forces liberated Kabul from the tyrannical rule of the Taleban. Since then, the people of Afghanistan have experienced real progress in many aspects of their daily lives. Under the Taliban, there were only around one million children in school, almost none of whom were girls. Now there are over five million children in school, a third of whom are girls. In 2002, less than 10 per cent of the population had access to basic healthcare; that figure is now 85 per cent. GDP has tripled from $4 billion to $13 billion since 2003. And since the end of Taliban rule, around five million refugees have returned home to Afghanistan - proof that Afghans feel more secure in their own country.
All this is testament to the commitment of the Government of Afghanistan to provide security and stability for its people, with the support of the international community. The international military presence here will not last forever: transition is well underway and UK combat forces will have departed from Afghanistan by 2015. But Britain and the international community's commitment to Afghanistan will extend far beyond then. This will include ensuring that the ANSF can provide security on their own. There could be no more fitting tribute to our fallen soldiers".
Search the news archive
Published 13 November 2011