Remarks at the launch of the International Protocol
Remarks from the Foreign Secretary and Special Envoy Angelina Jolie at the launch of the International Protocol.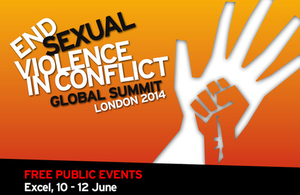 Remarks from Foreign Secretary William Hague
Ladies and Gentleman, good afternoon and welcome to the launch of the International Protocol on the Documentation and Investigation of Sexual Violence in Conflict, something I believe will be an extremely important document in the world.
This Protocol is the first of its kind, and we hope it will play a vital role in shattering the culture of impunity for sexual violence in conflict.
This impunity is a major factor in why these crimes continue.
Up to 50,000 women were victims of sexual violence during the war in Bosnia, but only just over sixty people have been successfully prosecuted for it.
From Central African Republic to Sudan to Syria, untold thousands of rapes have gone entirely unpunished.
We know that one of the primary reasons for the lack of prosecutions for sexual violence in conflict is the difficulty of gathering evidence that can stand up in court, and the trauma and the stigma faced by survivors in the process.
This Protocol is designed to overcome those fundamental barriers.
And we are determined to ensure that prosecutors, police forces, peacekeepers and civil society on the front line in this struggle know how best to document and investigate sexual violence in conflict so that perpetrators can be successfully prosecuted.
This Protocol sets out in detail how to interview survivors and witnesses, how to secure physical evidence, how to work with medics and lawyers so that survivors can be confident that the facts are on their side.
It shows how to protect survivors and to support them at every stage so that they don't suffer more trauma or risk being attacked for courageously taking a stand.
It has been written to help all those who might be involved in documenting and investigating sexual violence in conflict, from community activists to heads of police to international organisations who work in conflict-affected areas.
It contains the distilled wisdom of more than 200 renowned experts, investigators, survivors and organisations, representing years of accumulated experience and expertise.
We want it to be a reference point, setting standards for governments, for international organisations and civil society across the world.
If all countries applied these standards then it will greatly strengthen prosecutions for rape in conflict and help to secure a dramatic increase in successful convictions.
That is why as the United Kingdom our focus will be on the implementation of this Protocol. We will be translating it into multiple languages, we will be disseminating it worldwide through our huge diplomatic network, and in partnership with international institutions we will be supporting those organisations and activists putting it to use where it is needed most, in places affected by conflict and instability.
We will ask all the governments and organisations represented at this Summit to join this effort – to consider how they can use it in their countries, in their training for police or peacekeepers, in their work with civil society and in development programmes overseas, and we will do everything we can across the world to support them.
Of course, the strongest evidence in the world will not bring justice if prosecutors are not prepared to prosecute, or if police allow perpetrators to walk free.
The courage of survivors and activists must now be matched by the determination of governments.
That is why this Summit aims to galvanise the international community into action, and it's why the United Kingdom will do its utmost to ensure the momentum that we build here is harnessed and accelerated in the future.
Ultimately, however, it is the patient and tireless efforts of people on the ground in conflict-affected states that will tip the balance against impunity. It is their investigations that will bring perpetrators to justice one by one and send the message that warzone sexual violence will not go unpunished. It is their work that will deter armed men from ordering or committing rape in future wars.
So this Protocol is for them, it is for many of you in this room, and I hope it will be a crucial support to all of you across the world.
Remarks from the UN High Commissioner for Refugees Special Envoy Angelina Jolie
I have met survivors of warzone rape around the world.
And almost without exception they ask for one thing – justice:
The right to be accepted, not shunned, by society.
The right to long-term economic and health support.
And above all, the right to see their attackers held accountable in a court of law - because warzone rape is not a lesser crime, it is a crime against humanity.
Today, these rights are denied to millions of survivors around the world.
The number of convictions for warzone sexual rape is pitifully small.
People who rape innocent women, men and children during conflict assume that they will simply get away with it, because they have.
The few cases that are brought forward are often thrown out for lack of evidence, despite the testimonies from brave survivors.
This is an intolerable situation.
That is why, at the heart of this campaign, we are calling for an end to impunity:
Perpetrators have to know that even during conflict, evidence is being collected that will be used against them.
They have to know that when peace agreements are made, there will be no amnesty for rape and that if they commit these crimes, they will bear the stigma and punishment – no matter how long it takes.
We all know how hard it is to secure convictions for rape even in stable democratic countries.
So we have to work even harder to make justice possible in fragile countries.
And that is the purpose of this Protocol.
It is an essential document, and I am so grateful to the hundreds of experts and survivors who have played their part in drafting it.
The Foreign Secretary and I are determined to work hard to ensure that it is implemented.
And we will be asking all the governments coming to the Summit tomorrow to adopt the Protocol and back it fully.
As a part of the next stage of our campaign, we will follow-up on how it's implemented and what more still needs to be done.
I hope that by all of us working together, we can support survivors for the long but not impossible road to justice and finally, really, truly end impunity.
Thank you very much.
Follow the Summit live
There are several ways you can keep up-to-date with developments at the summit:
Published 11 June 2014