World news story
Release of research findings on Tunisian media reform
This was published under the 2010 to 2015 Conservative and Liberal Democrat coalition government
Arab Partnership project researched links between Tunisian media and governance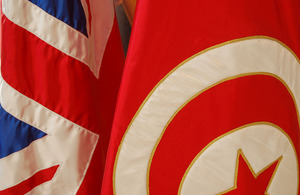 The British Embassy in Tunis was pleased to sponsor research, conducted by BBC Media Action, exploring views of the Tunisian people on media and governance in Tunisia. The research findings were presented during a conference on Friday 25 October 2013. The research formed part of an Arab Partnership project designed to assist the transformation of Tunisian National Television into an editorially and financially independent public service broadcaster.
BBC Media Action surveyed a representative sample of 1,000 Tunisians in June 2013. The results showed that Tunisian audiences believe that the media is better at holding leaders to account than the judiciary. Tunisians want the media to question government officials but do not want to play an active role in this by interacting directly with the media.
The findings highlighted the potential for television to make a difference. The medium remains the most important source of information on politics and current affairs for Tunisians, but trust in television was low. As such, work that addressed the challenges of trust and credibility in Tunisian television channels was key.
The research highlighted that there was a real demand for programming that addressed social issues. The largest number of those surveyed said they would like to see more social programming. Being "useful for society" was an important criteria identified by the audience for a programme to be appreciated.
The Tunisian audience felt that the media was better than any other Tunisian institution at holding political leaders to account, yet despite this there was a low level of satisfaction with the accounts given by leaders. Over two thirds of the audience reported that if there was a way to question government officials they would. The research recommended harnessing this collective desire, and finding a way to increase the willingness of the Tunisian audience to contact the media so it can continue to hold the government to account and provide the audience with what it wants.
Speaking at the event, Mr Patrick Merienne, First Secretary for Development at the British Embassy in Tunis, highlighted in his speech the need of international communities' support for countries undergoing change and affected by security and political turmoil. Mr. Merienne asserted that,
"The UK and many other members of the international community are committed to supporting reform of the media after the Revolution. The expansion of the Tunisian media sector and enhanced freedom of the media has paved the way for other drastic changes to take place".
The event was attended by Mr Sami Ben Kraiem, Prime Ministry spokesperson, Mrs Eve Sabbagh, BBC Media Action Tunisia Country Director and Karen Wespieser, BBC Media Action Research Director.
The Arab Partnership Programme is the UK's strategic response to the political changes in the MENA region. It aims to support the democratic transition through political reforms and economic recovery.
For more information
· Check our Arab Partnership Page
· Contact the Arab Partnership Team
· Stay informed by liking our Facebook Page and following us on Twitter.
Document information
Published: 25 November 2013