Relations between the UK and Turks & Caicos Islands
Minister for the Overseas Territories met Dr Rufus Ewing, leader of the Progressive National Party of the Turks and Caicos Islands on 30 July.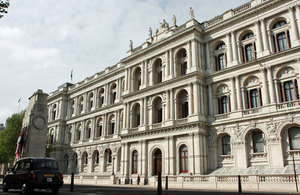 Speaking after the meeting the Foreign Office Minister said:
"I was delighted to welcome Dr Ewing to the London Olympics and to the UK. We had a good and constructive discussion about the financial and economic situation in TCI, the forthcoming elections, Dr Ewing's vision for the future of the Islands, and the bilateral relationship between the UK and TCI.
I underlined that the UK remains committed to continuing our open dialogue with both TCI political parties and independent candidates, and to supporting the new Premier chosen by the people of the Turks and Caicos Islands in the November elections. I look forward to continuing to build on these relationships in the run up to the polls."
Published 30 July 2012