Rehabilitation through archaeology project wins new award
An award-winning project using archaeology to aid the recovery of soldiers from The Rifles injured on Operation HERRICK continues its success on Salisbury Plain.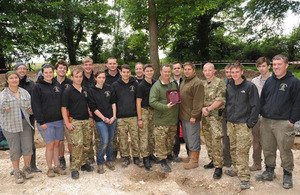 Operation Nightingale' has this week received a special British Archaeological Award in recognition of its innovative use of archaeological work to boost the recovery and career prospects of military personnel injured in Afghanistan.
This unique and hugely successful programme continues with investigations into the Bronze Age and Anglo-Saxon deposits at Barrow Clump. Soldiers are excavating material, including Saxon grave goods, moved by badgers who have constructed their setts on the prehistoric monument.
The soldiers have helped uncover the remains of a sixth-century Anglo-Saxon female. 'Davina', as they have named the woman, is believed to have died in her late teens to early 20s. She also appears to have been a person of note, as she was buried in what would have been a prestigious burial site.
They have also found the remains of an Anglo-Saxon male, who was buried with a bronze shield.
The Defence Infrastructure Organisation (DIO) worked with The Rifles to create this opportunity for the soldiers to learn a series of excavation, land survey, drawing and mapping techniques and also to enhance their publication and presentation skills.
And eight soldiers are moving on to study archaeology at Leicester University, thanks to the programme.
Co-directed by Richard Osgood, the DIO's Senior Historic Advisor, and Sergeant Diarmaid Walshe of 1st Battalion The Rifles, the project draws on assistance from partners including English Heritage, Wessex Archaeology and the Army's survey unit, 135 Independent Geographic Squadron, to help deliver the programme.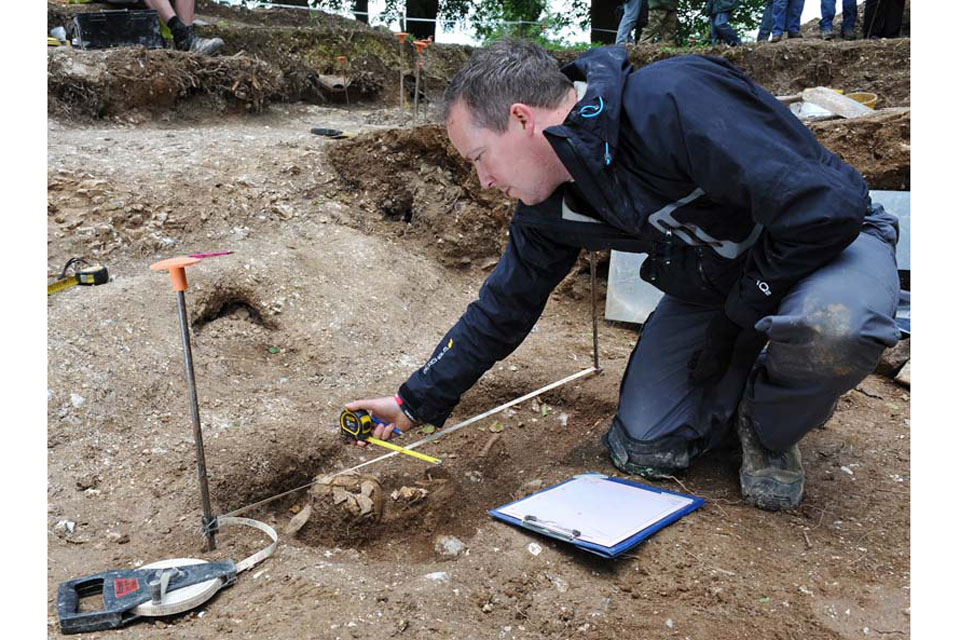 Mr Osgood said:
DIO's priority is to support our Armed Forces. There are long-standing connections between the profession of archaeology and the military. This work continues to draw on a number of important skill-sets to give the soldiers an enduring interest in heritage and their environment.
We are delighted to receive recognition from the British Archaeological Awards for the project, which underlines its significance, as soldiers who took part in the first dig last September prepare for life after the Services - looking forward to studying archaeology at university.
It's great to see so many heritage organisations and individuals volunteering their time to play their part in fulfilling the military covenant. The project has proved of immense value thus far in assisting soldiers in The Rifles whilst at the same time accomplishing some great archaeology.
The soldiers themselves, with the support of the archaeological professionals involved, are not only carrying out the excavation but will also produce a report to record their findings at the site which will then be published.
Sergeant Walshe, who is also a qualified archaeologist, said:
These soldiers have all endured a lot during operational tours. Due to the complex nature of the injuries that are being experienced in Afghanistan the Army is looking at new and innovative ways to promote recovery. The British Archaeological Award means as much to the soldiers participating in the project as it does to those of us leading the work.
We have already seen that archaeology enhances their rehabilitation process. It also gives soldiers a very different view of Salisbury Plain along with the heritage associated with it. We are investing time and resources in these soldiers in the firm belief that fieldwork and recording will aid their recovery.
The work is crucial to recover important artefacts and human remains before the site is destroyed by burrowing animals, and to assist in the process of addressing 'Heritage at Risk' on the MOD Estate.
Members of the project team collected the award - created especially to recognise Operation Nightingale's strengths - at the prestigious British Archaeological Awards ceremony at the British Museum in London on Monday.
Dr Mike Heyworth, Chairman of the British Archaeological Awards, said:
The trustees of the British Archaeological Awards were unanimous that Operation Nightingale was a project worthy of special recognition, not just because of the important archaeological work undertaken, but due to its positive impact on the well-being of courageous soldiers from The Rifles who have been able to take part.
We are delighted that archaeology can play such an important part in their rehabilitation.
Soldiers who took part in the initial phase of Operation Nightingale on Salisbury Plain Training Area last September are now set to use the experience to further their interest in archaeology. Corporal Steve Winterton of 1st Battalion The Rifles begins an archaeology degree at the University of Leicester later this year. He commented:
I have worked on all of the Operation Nightingale excavations since the beginning of the project last year and have really enjoyed it. I have excavated on prehistoric, Roman, 20th century and now Anglo-Saxon sites, all of which have offered really different experiences.
I am building up my skills through the work on these projects and am now able to put together project designs for major excavations - I have also gained a lot of fieldwork experience and have found two of the burials at Barrow Clump myself.
Another benefit of the project for me is that I have enrolled to do a degree in archaeology at Leicester University. Operation Nightingale has really helped me.
Staff at the University of Leicester have now forged close links and good working relationships with both project leaders and soldiers on the programme.
Deirdre O'Sullivan, Lecturer in Archaeology at the University of Leicester, said:
Since we heard about this great project last November we have been keen to be involved at all levels, from working with injured soldiers on Operation Nightingale excavations, to helping those among them who develop a taste for archaeology to take further steps in their future career development through our degree-level courses.
We are delighted to welcome the soldiers of Operation Nightingale into our student cohort, as the University of Leicester takes great pride in the accessibility of our teaching and support of students from non-conventional academic backgrounds.
"The soldiers' archaeological education is opening up new pathways for them and fresh opportunities for us; through working with Operation Nightingale our own students are having a terrific chance to stretch their horizons and gain valuable life experience.
And from an academic perspective we are also thrilled to be closely engaged with such interesting archaeology!
Published 12 July 2012