News story
Regulator strengthens oversight of rail industry
Michael Luger, Justin McCracken and Bob Holland appointed to Office of Rail Regulation.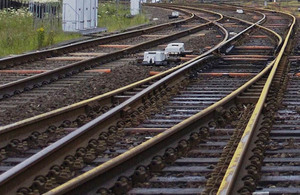 Transport Secretary Patrick McLoughlin has today (16 July 2014) announced the appointment of 3 new non-executive directors to the Office of Rail Regulation to ensure the industry delivers value for money, improves services and keeps our railways safe.
Michael Luger and Justin McCracken will take up their roles on August 1 and Bob Holland will start on January 1 next year.
The appointments will help strengthen oversight of Network Rail as the operator rolls out its £38 billion programme to maintain and enhance our railways over the next 5 years. This will include the delivery of a host of landmark schemes, including Thameslink, Crossrail, the Northern Hub and electrification of the Great Western main line.
Transport Secretary Patrick McLoughlin said:
The railways are set to be transformed thanks to our long-term economic plan that will see £38 billion invested in the network. That means new trains, thousands more seats and better and quicker journeys for passengers.

It is vital Network Rail is held to account and provides value for money for taxpayers. These appointments will mean that happens and will ensure our railways remain among the safest in the world.
The new non-executive directors have been chosen for their expertise in key areas, including health and safety, rail operations and asset management and regulation and strategy.
Chair of the Office of Rail Regulation Anna Walker said:
All 3 are proven leaders in their fields and will bring real expertise to the ORR Board. Bob's in-depth knowledge of complex funding and business models in the industry, the UK and across Europe, will help us develop more effective regulatory tools to improve industry performance. Justin's extensive and unique experience in both health and safety regulation will considerably strengthen the board's expertise in this very important area of our work. Michael's leadership and management experience at Manchester Business School and his considerable practical and academic experience of transport economics and infrastructure will bring a wide range of skills to the board.

We are delighted to have secured board members who can help us regulate the railways in ways that support improved performance and safety; drive better value for money for taxpayers; and deliver better service for customers.
Bob Holland has had 40 years' experience in the transport sector - both bus and rail. He was involved in the management buy-out of the National Bus Company in 1987, was with First Group from 1995 to 1999 and joined Arriva in 1999. At Arriva Bob has been Managing Director UK, responsible for both bus and train operations with £2.3 billion turnover and 26,000 staff. His rail experience includes responsibility for different types of business models including franchises, concessions, open access and rail maintenance businesses with all the associated operational and safety issues.
Bob was an active member of the Rail Delivery Group, including their working group looking at access planning and asset management.
Michael Luger was Dean of Manchester Business School between 2007 and 2013, securing significant growth and doubling student numbers. He founded, and still chairs, the university's Centre for Infrastructure Development and has a particular interest in infrastructure and asset management.
He is a PhD public sector economist who has taught and written widely on utility regulation and economics. He was founding director of the University of North Carolina's Centre for Competitive Economies.
Michael has served on the boards of several major public sector and not-for-profit organisations, including as chairman of a regional transportation authority in North Carolina, as well as on many state and national boards and commissions. He has been a consultant and adviser to national, state, regional and local governments throughout the world, and to major multi-national corporations.
Justin McCracken, was Chief Executive of the UK Health Protection Agency (HPA) from 2008-2013, a body bringing together a wide range of activities promoting, protecting public health. Before that he was Deputy Chief Executive of the Health & Safety Executive (HSE) where he was responsible for all of HSE's operational work, including the rail safety inspectorate (then part of HSE).
A physicist by background, Justin worked as a research scientist in ICI. His later posts in ICI took him into marketing and business management in the UK and overseas, including Managing Director of ICI Katalco, a catalyst and technology licensing business. In 1998, he joined the Environment Agency as North West Regional Director where he was responsible for all the activities of the agency in North West England, and promoted enhanced partnership working across many local organisations. He currently serves on the Boards of Ombudsman Services, a not-for-profit company offering alternative dispute resolution services, and of ENTRUST, the regulator of the Landfill Communities Fund.
These appointments are subject to the provisions of the Commissioner for Public Appointments' (OCPA) Code of Practice for Ministerial Appointments to Public Bodies. The OCPA Code requires that any declared political activity be published. Mr McCracken, Mr Luger and Mr Holland have not undertaken any political activity.
Rail media enquiries
Press enquiries 020 7944 3021
Out of hours 020 7944 4292
Switchboard 0300 330 3000
Published 16 July 2014