Press release
Regulator helps NHS providers ensure sustainable healthcare for patients
Monitor, the health sector regulator, is helping NHS hospitals and other providers redesign the way they deliver healthcare in order to safeguard services for patients.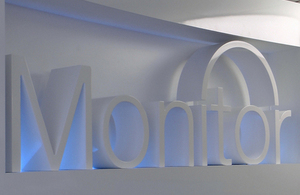 In the wake of the most financially-challenging year that NHS foundation trusts have experienced, the regulator warns: "There can be no let-up in the speed or scale of change in provider organisations."
David Bennett, the chief executive, disclosed that the strategic plans originally submitted by foundation trusts for 2015-16 and beyond were "unaffordable" and would have resulted in a worse financial performance for the sector than last year.
Monitor's annual report and accounts for 2014-15 confirmed that the foundation trust sector ended the year in deficit for the first time, with over half of all foundation trusts losing money and a record one-fifth in breach of their licence.
In his review of the year, Dr Bennett noted that foundation trusts faced unprecedented demand for services, with a 6.5% growth in GP referrals and a 7.5% rise in ambulance calls.
"Experience has taught us that struggling trusts cannot resolve their difficulties alone: they need a concerted, long-term response from the various providers, commissioners and users of services who make up their local health economy," he wrote.
"Individual trusts, however, each need a reliable plan for the future and many are falling short on this. A review of trusts' five-year strategic plans showed that only 30% would secure a sustainable future."
The annual report sets out how Monitor has sought to be more than a financial or economic regulator, by developing capacity amongst foundation trusts to deal with the challenges they face, and supporting them to prevent operational problems arising in the first place.
In particular, the regulator's new Provider Sustainability Directorate is helping foundation trusts improve their performance and how they innovate so they can get back on a sustainable footing before their difficulties become overwhelming.
Other issues highlighted in the annual report include:
although 10 foundation trusts were found in breach of their licence during 2014-15, 8 demonstrated sufficient progress for Monitor to end regulatory action
3 foundation trusts exited the special measures regime (2 by delivering improvements in quality, one through merger with a neighbouring foundation trust)
6 new foundation trusts were authorised, including the first 3 community foundation trusts and the first foundation trust providing high security psychiatric services – taking the total to 151, or two-thirds of all NHS providers
there was a significant decline in foundation trust earnings, and the overall earnings margin of 3.8% was below the 5% threshold used to assess the long-term financial sustainability of foundation trusts
the deterioration in financial performance was driven in part by "excessive use of agency staff" in response to demand, and exacerbated by a failure to achieve the cost savings planned
Confirming that only 30% of foundation trusts submitted plans setting out a sustainable future in the medium term, the annual report said: "70% of plans suggested their trusts' sustainability was at risk to varying degrees. Without fundamental change – for example, integrating and redesigning patient services – the sector is likely to face increasing financial distress."
Dr Bennett said:
Our priority has been to help local commissioners and providers redesign the way they deliver healthcare for longer-term sustainability while continuing to maintain their operational performance. All this has to be done by the sector in the face of increasing demand and constrained funding.
Published 21 July 2015