Register for marine noise introduced
A Marine Noise Registry has been introduced by Defra and JNCC to collect and display data on noisy activities in the marine area.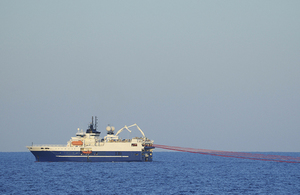 The MNR is to record human activities in UK seas that produce loud, low to medium frequency (10Hz – 10kHz) impulsive noise.
Marine licence applicants may be asked to provide additional data about the noise impact of their projects through the MNR.
Where possible data is extracted from current marine licensing processes, however in some band 3 cases it will be mandatory for developers to provide information as a condition of their marine licence. This depends on the type of activity carried out and will be explained within relevant marine licence documents.
For cases that involve impulsive noise impacts but are not band 3, conditions will not be added, but developers will be asked to submit data on a voluntary basis.
When the MMO is asked to provide advice on Nationally Significant Infrastructure Projects (NSIPs) which involve relevant types of noise it will recommend to the Planning Inspectorate and the applicant that the MNR conditions are added to the deemed marine licences.
Developers using the MNR to provide information on seismic surveys no longer need to complete the voluntary form to notify the MMO.
Data collected through the MNR will help the UK to assess its ability to achieve 'good environmental status' under the Marine Strategy Framework Directive. Information from the register will also be fed into a Europe-wide registry through OSPAR (the Oslo and Paris Convention for the Protection of the North-East Atlantic).
Published 18 August 2016