Regional Growth Fund projects selected
Government's flagship scheme to spend over £1 billion to boost economic growth across England.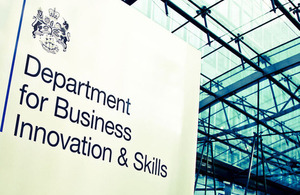 19 Oct 2012
---
---
Deputy Prime Minister Nick Clegg has announced how the Regional Growth Fund will create or safeguard thousands of jobs over the long term, benefitting 130 projects and leveraging £6 billion of private sector investment.
This investment will help manufacturing firms, small businesses and local partnerships across England to expand their operations, create new jobs and stimulate growth.
Full list of the round three selected bidders
Nick Clegg said:
"This £1 billion boost for growth in towns and cities across England is creating jobs that will last in the parts of the country that need it most.
"I have seen for myself the real difference this makes on the ground - from iconic businesses like Eddie Stobart expanding in Widnes and creating 3,450 jobs in the local area, to the Sunderland car parts factory, Unipres who have used their funding to buy a new 3,000 tonne press, letting them accelerate production and take on an extra 316 people."
Around £697 million of the £1.05 billion pot will go to over 100 companies in the private sector, with a further £358 million going to local authorities and local enterprise partnerships (LEPs), ensuring that funding gets to the right parts of the country.
Boosting local growth
The Business Secretary, Vince Cable visited Redx Pharma in Liverpool yesterday, a UK-based pharmaceutical company which has been allocated £4.7 million in round 3 for research into drugs against microbial infection, influenza, hepatitis C and HIV. The project is expected to create 119 jobs over five years. He said:
"The Regional Growth Fund is creating the long-term growth and jobs that this country needs. The projects support important local priorities and there is a good alignment with key sectors in our Industrial Strategy including automotive, aerospace and life sciences.
"Redx Pharma's previous award of £5.6 million in round two has already helped them establish an impressive oncology research centre and has created over 50 new jobs since April this year.
Business and Enterprise Minister Michael Fallon visited Rochdale, and a manufacturing company with a 150 year history. Thanks to money from the Regional Growth Fund they will be building a new European headquarters in the area. He said:
"Holroyd Precision is a prime example of how we can help companies achieve their aspirations and create jobs in a timescale that works for them.
"The company will maintain its strong links with Rochdale thanks to the Regional Growth Fund and build its new European headquarters in the area.
"So not only are they staying here in the North West, but they are expanding and creating new jobs. Success stories like this are happening up and down the country thanks to the Regional Growth Fund."
Links
Published 19 October 2012