Press release
Regional growth fund investment reaches £4 billion
The Regional Growth Fund has put £1 billion in the hands of businesses, which leveraged nearly £3 billion in private sector investment.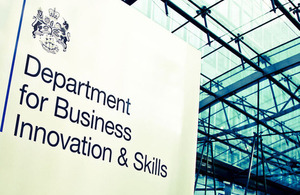 The government's Regional Growth Fund (RGF) has now put more than £1 billion in the hands of businesses, which in turn has leveraged nearly £3 billion in private sector investment, Business Secretary Vince Cable announced today (11 December 2014).
The fund has also created and safeguarded more than 100,000 direct jobs in the English regions to-date. The news means the fund is now on track to deliver the 573,000 jobs it is projected to deliver by the end of the decade.
Business Secretary Vince Cable said:
So far, the Regional Growth Fund has secured £4 billion investment in companies across England – this is a great achievement, helping people and businesses across the country and there is still more to come.

It is proof that RGF is playing a pivotal role in developing innovative technologies; providing highly skilled jobs and giving businesses the confidence to invest in the UK.
Universities, Science and Cities Minister Greg Clark said:
RGF is a great example of how business and government can work together to create the long-term, highly skilled jobs that are fuelling our recovery and growing our economy.

So far we have supported over 8,000 companies across the country to help them expand, take advantage of new markets and reach their full potential.
Today Vince Cable is visiting mechanical seals and support systems manufacturer AESSEAL in South Yorkshire to meet 23-year-old graduate Luke Purshouse, the 100,000th person to get a job as a result of RGF.
Mr Purshouse said:
Growing up in a mining family, in a mining area, means engineering is in my blood. I am excited by the opportunity to design products that make things better and ultimately is a benefit to society.
Vince Cable will also meet 19-year-old Madeleine Kearney, an Apprentice Test Engineer at AESSEAL.
AESSEAL secured a £1.7 million RGF award towards a £8.7 million project. The money will be used to expand the company's UK R&D and manufacturing capability in delivering high-technology sealing applications to the world market. To date the £1.44 million in RGF funding they have drawn down has been matched by an investment of £3.3 million and secured 56 jobs as result of this investment, with similar numbers of jobs expected to have been generated in the company's supply chain.
Every recipient of RGF support agrees a grant offer letter with the government. This sets out what the project or programme will achieve, in terms of jobs and investment. Where milestones are not hit, payment is withheld.
To monitor compliance against the offer letter, every project and programme is assigned a monitoring officer, who meets with them quarterly to review progress. This includes checking paperwork to ensure the job delivery and investment are valid. In addition, every scheme must submit to us an annual report from an independent accountant to verify the outputs are genuine.
Every single one of the 100,000 jobs has been verified by the monitoring officer.
RGF is a flexible and competitive fund operating across England. It supports projects and programmes that are using private sector investment to create economic growth and sustainable employment. So far more than 8,000 businesses have received support through RGF.
The selected bids for RGF Round 6 will be unveiled next 2015.
Notes to editors
Published 11 December 2014