Press release
Reforms are vital next step towards sustainable immigration
A package of measures designed to drive forward radical reforms to the immigration system has today been laid in Parliament.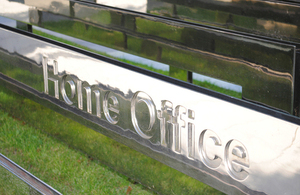 As the government's work to reduce net migration to sustainable levels progresses, Immigration Minister Damian Green has initiated major changes to the student entry route and rules governing who will - and who will not - be permitted to remain permanently in the UK.
Damian Green said:
'For too long immigration was allowed to get out of control. Our radical reforms are ensuring that we are selective not just about who can come here but also who will be allowed to stay permanently.
'Today's changes represent real progress on our promise to bring immigration back to sensible, sustainable levels, and to bring in only those migrants who can make the greatest contribution to life in the UK.'
A new minimum pay requirement of £35,000 for skilled temporary workers wishing to apply for settlement will mean that only those who make the biggest contribution to the UK economy will be able to stay here permanently. The income requirement will take effect in April 2016. Today's rule change is intended to give notice to migrants and employers.
The annual limit for the Tier 1 exceptional talent route - designed to meet the needs of exceptionally talented leaders in the fields of science, humanities, engineering and the arts - will remain the same for the next two years, at 1,000 visas.
Among the changes to the student entry route, which will take effect on 6 April, are:
the closure of the post-study work route, which was far too generous in offering a two-year visa with no work restrictions;
the introduction of a five-year time limit for study at bachelors and masters degree level, to ensure the student route serves its proper role as a means of temporary entry to the UK, not of achieving permanent settlement here;
limiting the time students are allowed to spend on work placements, to crack down on those who come to the UK to work, rather than study; and
offering the brightest and best university graduates who have a compelling business idea the chance to stay on through our graduate entrepreneur scheme.
When reforms to the student visa system have been fully implemented, the government estimates that there will be around 70,000 fewer student visa grants a year and around 20,000 fewer visas issued to dependants.
Other Immigration Rules changes laid before Parliament today include provisions to:
provide for mandatory, rather than discretionary, curtailment of leave to remain in the UK when a migrant fails to start or withdraws from their job or study course;
reform the overseas domestic worker routes, as announced by the Home Secretary last month; and
allow certain professionals, artists, entertainers and sports-people to carry out paid activities in the UK for up to one month, also as announced last month.
##
Notes to editors
1. Full copies of the Written Ministerial Statement laid in Parliament earlier today can be obtained from the Home Office Press Office.
2. Two official impact assessments are also being published today on the Home Office website, one on the government's settlement reforms and another on reforms to policies relating to overseas domestic workers and Tier 5 of the Points-Based System.
3. For more information please contact Ben Biddulph in the Home Office press office on 020 7035 3857 or the press office newsdesk on 020 7035 3535.
Published 15 March 2012