Reform the key to unlocking EU growth
Europe needs to reform to drive growth or risks falling further behind our competitors, warns Prime Minister David Cameron.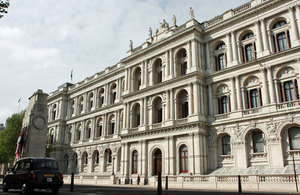 In the pamphlet Let's Choose Growth published on 31 March 2011 there is a stark warning that if current trends continue, by the middle of the century, leading EU nations could fall out of the world's top-10 most powerful economies.
The pamphlet, which sets out a series of measures, comes as a growing number of EU countries are making the case for action on growth, deregulation and completing the single market. Last week's European Council endorsed much of this approach and agreed on the need for action to promote economic growth.
Prime Minister David Cameron said:
"It is clear that there is a growing urgency and need for action to secure long term sustainable growth in Europe.
"No one country can do this on their own. We need to take collective action to unleash the forces of enterprise across our continent, to advance exports and trade, to lift the burdens on business and to drive fresh innovation in what is the world's largest economic bloc.
"We cannot be complacent - the world won't let us. There is a real risk that if we don't work together Europe could be left behind. But it doesn't have to be like this, Europe can change, to create jobs, to create wealth and to compete in a global marketplace."
To secure sustainable growth the Prime Minister is calling for action to be taken to:
Complete the Single Market. By prioritising areas such as services and energy and modernising the Single Market for the digital age. The Single Market already adds €600 billion a year to our economy. Further liberalisation of services and the creation of a digital single market could add €800 billion more. This is the equivalent of making the average European household almost €4,200 better off each year;
Unlock the benefits of trade. Concluding the Doha agreement this year and signing trade deals with some of the world's fastest-growing economies, including India, Canada, Japan, Mercosur and the ASEAN nations. By opening up new markets and reducing barriers to trade between the EU and other dynamic markets, Europe could gain 5.2 million jobs; more than the number that was lost in the recession;
Reduce the costs of doing business. Making it easier for all our companies to start up, grow, invest and take on staff. Reducing the overall burden on business of EU regulation over the life of this Commission, ensuring that new burdens are offset by savings elsewhere and exempting small business from regulatory burdens. It costs €593 to set up a business in Brazil, €641 in India and €644 in the US, but it costs on average €2,285 to do so in Europe; and,
To make Europe no1 for innovation. By creating a clear, cost-effective and business friendly continent-wide patents regime. And closing the funding gap for innovative firms by reducing barriers and developing proposals for a pan-EU venture capital fund that will invest in the most innovative and high growth companies across the EU. For every euro invested in venture capital within the EU, five times as much is invested in the US. And since 1975, 70% of innovative companies have been created in the US.
Published 31 March 2011