Reducing red tape so councils can invest more in affordable housing
Housing Minister Grant Shapps today announced Government plans to give councils more financial freedoms to improve, buy and build new housing…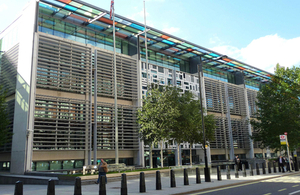 Housing Minister Grant Shapps today announced Government plans to give councils more financial freedoms to improve, buy and build new housing for their local community.
New proposals, published today for consultation, will allow councils more flexibility to trade their assets, and use the receipts to enable further investment in new homes and regenerating the local area.
Rather than seeking permission from Ministers in every case, local authorities will have greater discretion to use and improve their council housing assets in a way that best suits their community.
Mr Shapps said today's move was in direct response to requests from councils across the country to streamline the complex regulations governing these sales and use of the receipts.
The new rules will protect existing tenants and ensure the money is spent for the benefit of the local community. The new rules will not affect occupied homes unless the sale is to the tenants themselves. Where assets are sold, councils will be able to keep the majority of receipts, as long as the money is spent on housing or the regeneration of the local area.
The extra flexibility will complement the most radical reforms to social housing in a generation, which are currently being introduced, and which are designed to bring a fundamental shift of power from Whitehall to councils and local housing associations.
Housing Minister Grant Shapps said:
For years councils have been hamstrung in their attempts to use social housing to its maximum effect, with a lazy consensus amongst politicians trapping one of our most valuable resources in a system that helps far fewer people than it should.

If councils want to use their assets to improve the availability of housing for their local community, it is ridiculous that they are forced to ask a senior Government Minister for permission in every case. That's why I am today proposing greater freedom for councils to enable the judicious sale of assets.

I also want to end the complex regulations that make it difficult for councils to boost local investment in new housing. Our proposals will streamline the rules so councils can recycle more receipts from these sales into improving the local availability of affordable homes. These changes will make the system fairer - councils will now be able to make decisions that genuinely meet the needs of local people, and the changes will not any affect any existing tenants.
Notes to editors
1. The 'Streamlining council housing asset management: Disposals and use of receipts - Consultation' is available here: www.communities.gov.uk/publications/housing/streamliningcouncilhousing.
2. Local authorities have powers under Part II of the Housing Act 1985 to dispose of council housing assets, but can use these powers only with the consent of the Secretary of State. Section 34 of the Act permits the Secretary of State to grant consent generally. This means where certain pre-conditions are met, a specific consent is not required.
3. Restrictions will apply to ensure this new power is used properly by councils. The disposal of housing assets at market value will not be allowed if:
i. the disposal results in a tenant of the council becoming the tenant of a private landlord; or ii. the disposal is of a dwelling to a wholly owned subsidiary of the local authority (such disposals provide a means of avoiding the borrowing cap imposed under self-financing).
4. The Government is taking the opportunity of streamlining the regulations (the Local Authorities (Capital Finance and Accounting) (England) Regulations 2003 (as amended)) that govern use of the receipt arising from the disposal of council housing assets.
5. In addition to simplifying the regulations, the Government is clarifying in what circumstances the local authority must surrender 75 per cent of the receipt from a disposal to central Government. The proposal is for this to be the case when the sale is made to existing (or recent) council tenants. Receipts from sales to other individuals for owner-occupation may be retained provided they are used for specified purposes.
6. To facilitate the introduction of self-financing for social housing, these specified purposes will include spending on affordable housing and regeneration, and repaying housing debt connected to the particular asset being sold. Under the self-financing settlement, each local housing authority will take on a level of debt associated with each individual house or flat in its possession. It is therefore essential that when a local authority disposes of houses and flats it must have the option of clearing the debt associated with it. This will enable councils to maintain healthy balance sheets for their social housing, which is vital for continued investment in new housing.
7. The new powers will not affect current arrangements for Right to Buy.
Today's consultation is all about simplifying current processes. It means that where councils do want to sell certain stock (eg, selling to a former member of the armed forces to help them onto the housing ladder), they will be able to do so without first seeking permission from central Government. So this will lead to a speeding up of the process of selling a property - but not to any significant increase in the numbers of homes sold. The local authority must spend the receipt it gets on housing or regeneration.
Twitter
Keep up to date with the Department by following us on Twitter (external link).
Media enquiries
Visit our newsroom contacts page for media enquiry contact details.
Published 25 August 2011