Press release
Reduced cap on rail fare rises
2% cut to planned rises in the cost of UK rail, London bus and tube travel.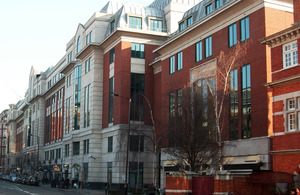 Passengers will benefit from a cut of up to 2% to the planned rises in the cost of nationwide train travel and travel on London buses and tubes following today's (7 October 2012) announcement by Prime Minister David Cameron.
The average increase in regulated rail fares and the cost of travel on London's buses and tube network will be limited to 1% above inflation for 2013 and 2014. Rail fares had been due to increase by RPI + 3%, while fares on London buses and tubes had been due to rise by RPI + 2% in 2013.
This is expected to benefit more than a quarter of a million annual season ticket holders who can expect to have an extra £45 back in their pockets as a result of today's (7 October 2012) decision. Many more holders of weekly and monthly season tickets could also see lower fares and some commuters will be over £200 better off over the 2 years.
The Department for Transport (DfT) is planning that from January 2015 onwards the regulated fares cap for franchised train operators will increase by RPI + 1%.
The decision to reduce the planned increases, funded from savings identified in the DfT's budget, will benefit hard-pressed commuters and passengers. In future years the DfT will look to absorb the costs by reprioritising within existing budgets.
The fares national rail passengers pay will continue to support our major programme of rail improvements, the largest in scale since the Victorian era. It will deliver crucial benefits for passengers, including relief from crowding on some of the nation's busiest routes.
The government still believes it is vital that efficiencies are found in the cost of running the railways so that we can deliver better value for money for both taxpayers and farepayers and end the era of above-inflation rises.
Notes to editors
The 2010 spending review announced that the cap on average regulated rail fares increase would be the RPI rate of inflation plus 3% in 2012, 2013 and 2014. In the autumn statement last year, the government lowered the cap on increases to RPI + 1% for 2012.
The July RPI used in the calculation of rail fares is 3.2%. So from January 2013 the average rise in regulated rail fares will be 4.2%.
The independent McNulty 'Rail value for money' study published in 2011 highlighted that while our railways are performing well operationally, they cost too much to run; if we can make substantial reductions to the cost of running the railways and the improvement in the wider economic situation permits, we can bring to an end the era of above inflation fare rises in average regulated fares, while continuing to expand capacity on our rail network.
The government regulates the existence and price of certain rail fares: generally, commuter fares and the majority of long-distance off-peak fares.
Rail media enquiries
Media enquiries 020 7944 3021
Out of hours media enquiries 020 7944 4292
Switchboard 0300 330 3000
Published 7 October 2012