Press release
Red Tape cuts set to save another £54 million
£54 million saved by cutting unnecessary rules plus additional initiatives for professional drivers and freight operators announced.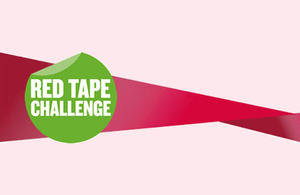 Millions of drivers are set to save even more time and money thanks to the government's commitment to cutting unnecessary rules and regulations, Roads Minister Stephen Hammond has announced (29 January 2014).
Pledging to make further cuts to needless bureaucracy, Stephen Hammond today (29 January 2014) unveiled 2 additional initiatives for professional drivers and freight operators and said changes in the coming year would help even more motorists.
Stephen Hammond said:
Taxpayers have a right to expect government services to be convenient and uncomplicated. The work we have carried out to remove unnecessary paperwork has reaped real benefits for motorists and businesses.

Some of these changes might seem very straightforward but they are helping to make life easier for millions of people. Our work will not stop there and we will continue to look for ways of slashing unnecessary bureaucracy across the transport network and ensuring government services are customer-friendly.
In the coming financial year the introduction of new measures will save motorists and businesses an estimated £54 million. This £54 million breaks down as:
36 million vehicles will no longer need a paper tax disc, saving business and taxpayers around £14 million each year
33 million drivers will no longer need a paper counterpart to their driving licence, saving them an estimated £8 million each year
more than 17 million changes to address and vehicle details will be possible online
6 million people will not need to return an insurance certificate if a policy is cancelled mid-term, saving business £29 million each year
2 million fleet vehicles will no longer need a paper registration certificate, saving companies around £3 million each year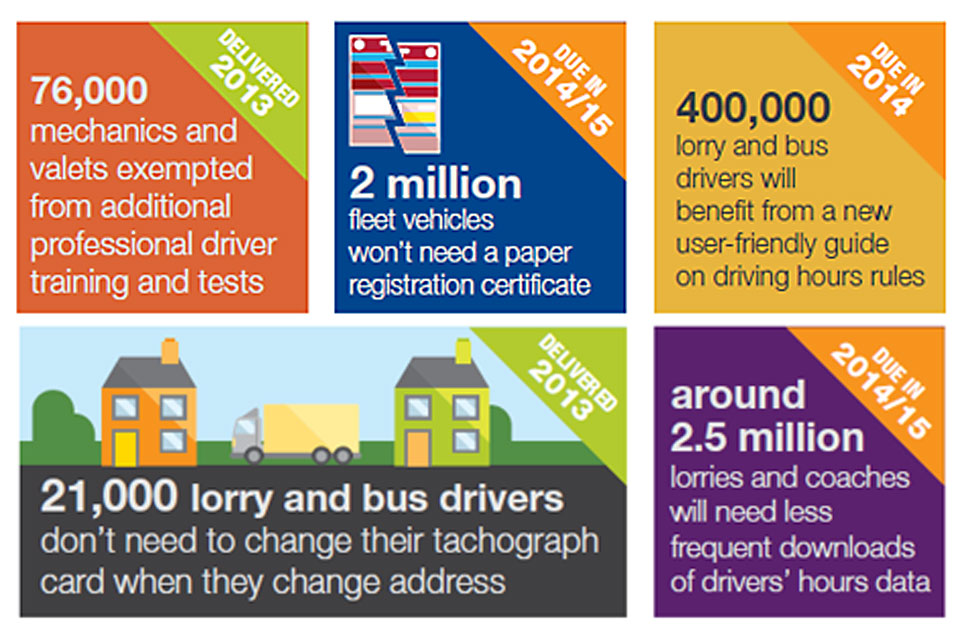 Two additional changes have also been announced today (29 January 2014). A user-friendly guide for professional drivers will be developed to increase clarity and understanding on drivers' hours and working time rules, particularly about when a driver needs to take a break.
In addition the frequency with which digital drivers' hours records must be downloaded from tachographs will be relaxed, a change which benefits drivers on long international tours.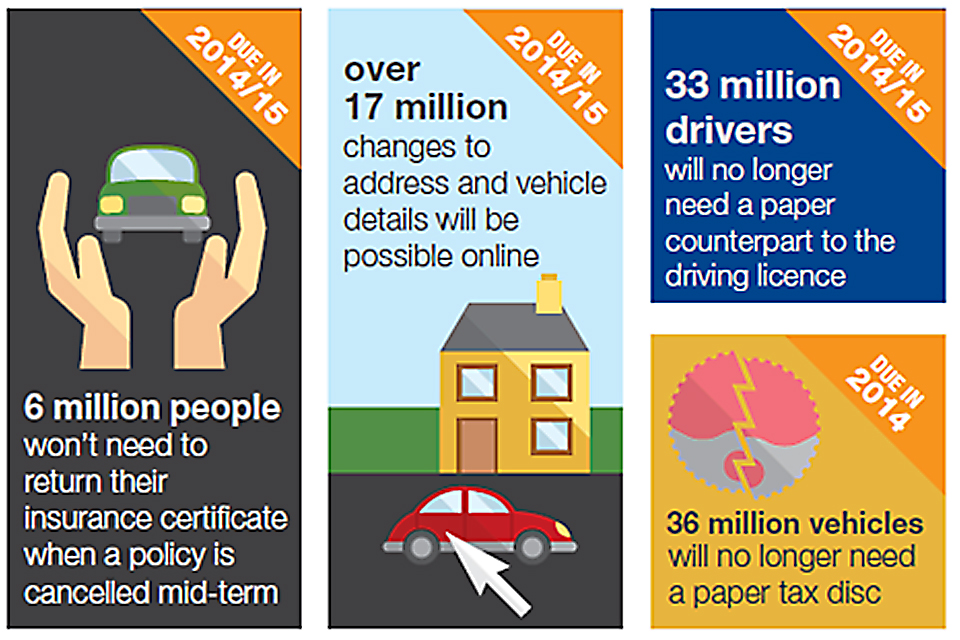 Changes made to transport rules through the Red Tape Challenge are already saving business over £70 million a year and saving private motorists over £100 million a year and include:
1.2 million vehicle owners no longer need to renew their Statutory Off Road Notification (SORN) saving them £6 million a year
160,000 customers do not need to MOT their historic vehicle, saving them £7 million a year
600,000 more people can tax their vehicle online
76,000 mechanics and valets have been exempted from additional driver training, saving business £24 million a year
new rules, saving road users over £100 million per year in reduced congestion, incentivise quicker and less disruptive road works
The Red Tape Challenge was launched in 2011 and has been applied to all areas of transport with the aim of reducing unnecessary bureaucracy for users of road transport and the rail, maritime and aviation services.
Find out what else the government is doing to support and grow the UK economy
Related information
Further information about the highlights and progress of Department for Transport and the Red Tape Challenge is available.
Roads media enquiries
Media enquiries 020 7944 3021
Out of hours media enquiries 020 7944 4292
Switchboard 0300 330 3000
Published 29 January 2014