News story
Red Tape Challenge sets retailers free from regulations
The proposals are the first results from the Red Tape Challenge and will see significant changes to legislation that will make life easier for…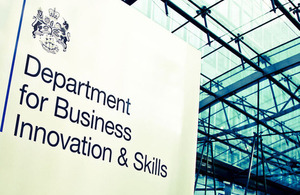 The proposals are the first results from the Red Tape Challenge and will see significant changes to legislation that will make life easier for businesses and promote personal freedoms. Comments from the public and business, along with a vigorous process of challenge within Whitehall, on the 257 regulations under consideration have led to proposals to:
replace or simplify more than 12 pieces of overlapping, costly and confusing consumer rights law, with a single new piece of legislation;
remove a number of burdens specifically identified by retailers including consolidating and simplifying the procedures for age verification or identification for the selling of age-restricted goods; simplify the ineffective and burdensome poisons licensing system for low risk products such as fly spray and toilet cleaner; remove the requirement on retailers to notify TV Licensing about TV sales; and removing and simplifying a range of rules on transport products such as tyres and catalytic converters;
promote greater personal freedom and responsibility by getting rid of symbolic cases of heavy handed intervention, such as requiring a shop selling liqueur chocolates to have an alcohol licence, and by lowering the age for buying harmless Christmas crackers; and
prevent business confusion, and cutting down the dead weight of the statute book, by removing redundant legislation, such as the antiquated Trading with the Enemy Act and its 98 linked regulations and rules around the safety of pencils, prams and hood cords where consumers are already protected by other legislation.
The Government's response also outlined how it had listened to comments from the public and kept well designed and valuable regulations that have widespread support, such as the hallmarking regime.
Business Secretary Vince Cable said:
"We have to roll back the number of rules and regulations that our businesses have to deal with if we are to create the right conditions for sustainable economic growth. We have heard these promises by successive Governments before but these first proposals from the Red Tape Challenge show that we're serious about doing that and we are making real progress.
"But this is just the start. We still need the help of business and the public to make the rest of the Red Tape Challenge a success and free businesses to compete, create jobs and unleash a private sector-led recovery."
The Red Tape Challenge was a key action from the Government's Plan for Growth, which is focusing on creating the right conditions for businesses to start up, invest, grow and create jobs. Over the lifetime of the Challenge, Government will examine all of the existing regulations on the statute book, with a view to breaking down the barriers and promoting opportunities for business, freeing them of unnecessary red tape.
Minister for Business and Enterprise Mark Prisk said:
"As a result of the thousands of comments we received, and a robust challenge process inside Whitehall, we are now proposing to simplify, improve or abolish two-thirds of the retail regulations that we asked the public to comment on, cutting back the bureaucracy that our retailers face. These moves will help reduce costs especially for small retailers by cutting down the number of forms they have to fill in and overlapping and confusing laws they have to get to grips with.
"We've listened to what people have said about the confusing and overlapping rules with the aim to get rid of the ones we don't need and making the ones we do simpler to understand and put into practice. At the same time though we are preserving good regulation, such as the hallmarking regime, for which there was strong support."
Dr Kevin Hawkins, sector champion for the retail theme said:
"The results from the retail theme of the Red Tape Challenge mark a real change in attitude to cutting red tape. Not only does the Government seem to be getting over its addiction to regulation by taking dramatic steps to cut the burden that retailers face and simplify the trading environment, but retailers really took the Challenge to heart and made good, well thought out suggestions.
"I hope this is a sign of things to come with Government freeing other businesses of red tape, and that those sectors will grasp the opportunity with both hands in the same way the retail industry have done.
"We need to remember, however, that reducing our stock of regulation is one thing - cutting the inflow of new laws is quite another."
---
Notes to editors:
---
The Red Tape Challenge (RTC) retail theme was launched by the Prime Minister on 7 April. It gives the public the chance to have their say on some of the more than 21,000 regulations that affect their everyday lives.

The retail theme opened on 7 April 2011 and was open until 10 May. Almost 9,000 comments were made on the website accompanied by written submissions from a variety of business groups.

Some of the public comments on the changes to legislation are below:
a) on changes to the consumer rights legislation, Ron King said: "From the point of view of small businesses the problem is the sheer volume and complexity of all this 'protection of the consumer'. Frankly it is impossible for the small business owner to even read all this stuff, let alone understand and apply it. This means every small business owner is constantly exposed to action being taken against him for contravening some regulation he never knew existed. This is ridiculous and unfair. We need a minimum amount of protection for consumers who should take responsibility for the purchasing decisions they make. The remaining legislation should be clear and concise."
b) on Age restricted sales, Duncan Harris said: "Age restricted sales legislation should be consolidated into one piece of legislation covering all products for the benefit of retailers and enforcers. However as the different products (e.g. knives, alcohol, solvents, tobacco, fireworks) are covered by different central government departments with different priorities this is unlikely to happen. Age restricted sales legislation should in no way be scrapped as it provides protection to the most vulnerable members of our society."
c) on household chemicals and poisons rules, Peter Johnnsen said: "Some of this can be done away with. Are poisons not covered under Chemical Hazard legislation? Some of this is age restricted legislation which can be consolidated. Product safety can be controlled in a way similar to the general product safety regs relying on standards rather than a proscriptive list of criteria. Everything supplied must be safe! The regulations are too complicated for words! They seem to be overly concerned with procedure rather than giving powers to removing suspect goods."
Further public consultation on changes to legislation will be required before the Red Tape Challenge proposals can be implemented. More information on these consultations will be announced in due course.

For each sector theme, there is an experienced 'sector champion' who will provide expert knowledge on the issues faced by those on the shop floor. The champion acts as an intermediary between the sector and Government and helps to direct the web-based debates and discussions. Retail sector champion, Dr Kevin Hawkins OBE, is a former Director General of the British Retail Consortium and Director of Communications for Safeway Stores plc. Kevin is an economist who has written books on unemployment and industrial relations and has been a member of the Cabinet Office Better Regulation Task Force/Better Regulation Commission.

The Red Tape Challenge campaign is part of the Government's growth agenda and will tackle the stock of more than 21,000 statutory instruments, many of which are currently putting barriers in the way of businesses, volunteers and the public. The Government's plan for growth is available at: http://cdn.hm-treasury.gov.uk/2011budget_growth.pdf

The Challenge process does not include legislation or regulations falling within the responsibilities of the devolved administrations, tax and fees legislation or national security matters. The breakdown of the 21,851 'live' statutory instruments is as follows:
Assigned to RTC themes 10960
Commencement/ appointed day orders 2868
Devolved/ crown dependencies orders 3555
Tax and fees 4268
National Security 200
Misc. (SIs on Machinery of Government,
General Synod, international requirements etc) c.2000

BIS's online newsroom contains the latest press notices, speeches, as well as video and images for download. It also features an up to date list of BIS press office contacts. See [http://www.bis.gov.uk/newsroom](http://www.bis.gov.uk/newsroom) for more information.
Notes to Editors
Contact Information
Name BIS Press Office Job Title
Division COI Phone
Fax
Mobile
Email NDS.BIS@coi.gsi.gov.uk
Name Nick Evans Job Title
Division Department for Business, Innovation and Skills Phone 020 7215 3496 Fax
Mobile
Published 28 July 2011