News story
Red Tape challenge kicks off
The Red Tape challenge website will be launched today by the Prime Minister and Business Secretary Vince Cable. It will, for the first time,…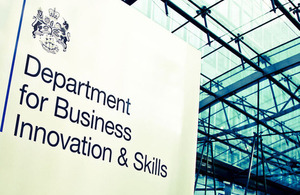 The Red Tape challenge website will be launched today by the Prime Minister and Business Secretary Vince Cable. It will, for the first time, give the public a chance to have their say on regulations that affect their everyday lives; whether it's to speak up for well designed rules that are there to protect or challenge badly designed or badly thought through regulations that are an unnecessary burden.
The Prime Minister said:
"We need to tackle regulation with vigour, both to free businesses to compete and create jobs, and give people greater freedom and personal responsibility.
"Of course we need proper standards, for example in areas like fire safety and food safety. So where regulation is well-designed and proportionate, it should stay. But it is hard to believe that we need government regulations on issues such as ice cream van musical jingles. That's why I want us to be the first government in modern history to leave office having reduced the overall burden of regulation, rather than increasing it.
"Our starting point is that a regulation should go or its aim achieved in a different, non-government way, unless there is a clear and good justification for government being involved. Be in no doubt: all those unnecessary rules that place ridiculous burdens on our businesses and on society - they must go, once and for all."
The campaign is part of the Government's growth agenda and will tackle the stock of more than 21,000 statutory instruments that are currently putting barriers in the way of businesses, volunteers and the public. The first area of national life to go under the microscope will be retail. Following this, every few weeks a new set of regulations, organised around themes, will open on the website for anyone to comment on. Once a theme has closed to the public, the Prime Minister has said in a letter to all Ministers that they will have three months to explain why a regulation is still required, or it will be scrapped.
Business Secretary Vince Cable said:
"The retail sector is a key part of our economy and essential to driving private sector-led growth. It also has to deal with hundreds of different regulations covering everything from employment law and health and safety through to consumer protection and the sale of offensive weapons.
"Some of these regulations are there for good reasons, protecting employees, businesses or the public. But some, like the Indication of Prices (Beds) Order serve no purpose at all.
"That's why this campaign is different to the de-regulation drives that have gone before. The onus is now on my fellow Ministers and I to justify a regulation, rather than on you telling us to do something about it.
"I urge you to visit the website and take a few minutes to tell us the regulations you deal with on a daily basis. This is your chance to make sure that consumers are properly protected from unscrupulous traders or give us the evidence we need to remove the unnecessary bureaucracy that stops your business from growing."
For each sector theme, there will also be an experienced 'sector champion' who will provide expert knowledge on the issues faced by those on the shop floor. The champion will act as an intermediary between the sector and Government and help to direct the web-based debates and discussions. **
Dr Kevin Hawkins, Sector champion for the Retail theme said:
"The moans and groans of businesses about regulation can't and shouldn't be ignored. By simplifying the trading environment we can free up your time to concentrate on the things that matter to your business.
"This is an opportunity for companies large and small to think hard about your business and what you would change in the regulation that plays a role in your everyday life."
Cabinet Secretary Gus O'Donnell has written to all Permanent Secretaries across Government to ensure that civil servants understand that this is an opportunity to find creative ways of achieving policy goals without resorting to regulation.
Gus O'Donnell said:
"This is a great opportunity for the civil service to help drive changes in the way that government delivers its policy goals - abolishing unnecessary regulations and using creative approaches to achieve the Government's objectives in non regulatory ways.
"I will be ensuring that all government departments engage with businesses and the public through this challenge, and present creative and credible options to Ministers on how they can deliver the government's ambitious goals on deregulation, to promote enterprise and enhance personal freedom and responsibility."
Notes to editors:
---
The Prime Minister's letter to all Ministers is attached.
The Red Tape challenge website is available at: www.redtapechallenge.cabinetoffice.gov.uk
The Indication of Prices (Beds) Order 1978 prohibits resale price maintenance of beds. Article 2 of the Order states that "a person who indicates that a bed is or may be for sale by him shall not indicate a price at which another person buying it may sell it".
The first five themes of the Red Tape challenge campaign will be: 1. Retail (Pilot phase open for four weeks beginning April 7); 2. Hospitality, food and drink (open for two weeks beginning May 5); 3. Road transportation (open for two weeks beginning May 19); 4. Fisheries, Marine enterprises and inland waterways (open for two weeks beginning June 2nd); and 5. Manufacturing (open for two weeks beginning June 16).
The campaign will also have six cross cutting themes that affect all businesses and are open throughout the whole of the campaign. Departments will need to make comments on the cross cutting themes every four months to ensure that momentum is maintained on the campaign. The six cross cutting themes are: 1. Employment law; 2. Pensions; 3. Company law; 4. Equalities; 5. Health and Safety; and 6. Environment legislation.
Retail sector champion Dr Kevin Hawkins OBE is a former Director General of the British Retail Consortium and Director of Communications for Safeway Stores plc. Kevin is an economist who has written books on unemployment and industrial relations and has been a member of the Cabinet Office Better Regulation Task Force/Better Regulation Commission.
The Government's plan for growth is available at: http://cdn.hm-treasury.gov.uk/2011budget_growth.pdf
SMNR and multi-media content will be available from the BIS website at http://www.bis.gov.uk/red-tape-challenge from 9am April 7 and will be updated with content throughout the day.
BIS's online newsroom contains the latest press notices, speeches, as well as video and images for download. It also features an up to date list of BIS press office contacts. See http://www.bis.gov.uk/newsroom for more information.
Notes to Editors
Contact Information
Name BIS Press Office Job Title
Division COI Phone
Fax
Mobile
Email NDS.BIS@coi.gsi.gov.uk
Name Nick Evans Job Title
Division Department for Business, Innovation and Skills Phone 020 7215 3496 Fax
Mobile
Published 7 April 2011